Podcast: Play in new window | Download
Subscribe: Apple Podcasts | RSS
Bestselling author Corban Addison discusses his gripping new novel, A HARVEST OF THORNS. It's a gripping thriller that reveals the ugly underbelly of fast fashion.
Then, Heather White talks about COMPLICIT, the film she co-produced with Lynn Zhang. It's an explosive undercover exposÁ© about deadly hazards in China's electronics industry. 
Corban Addison
How much pain does it take for a multinational corporation to become a more responsible corporate citizen? That's the question at the core of Corban Addison's new novel, AÂ Harvest of Thorns.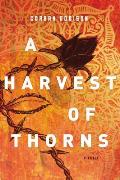 When a terrible fire claims the lives of hundreds of garment workers in Bangla Desh, one of America's largest retailers confronts a painful choice: does it do the right thing and enforce the ethical   standards it says it demands from its suppliers? Or does it serve the demands of its stockholders and ignore workers rights in favor of short term profits?
Two protagonists clash over the question: the company's compliance officer and a crusading journalist whose career is under a cloud. The lives of three workers and thousands of their co-workers are at stake.
A Harvest of Thorns  was inspired by the 2012 Tazreen Fashions factory fire in Bangla Desh, where more than a 100 workers died and more than 200 were injured.
This isn't the first time Corban Addison has used fiction to explore social justice themes. His novel A Walk Across The Sun is about human trafficking and The Garden of Burning Sand tells a human rights story set in Zambia.
But A Harvest of Thorns brings it all home, as it confronts the reader with how our endless appetite for cheap and ever-changing fashions is destroying the lives of the people who make our clothes.
Corban Addison is the author of several acclaimed novels in addition to Harvest of Thorns. He's also an attorney and human rights activist.
Read an excerpt from Harvest of Thorns
Heather White
When we gaze down lovingly at our shiny new smart phone,  few of us ever think of the young worker who is dying right now of leukemia — the one who cleaned our smart phone's screen on a factory line in China with the benzene that is now taking her life.
"Complicit" 2017 Trailer from ComplicitFilm on Vimeo.
But anyone who watches Heather White's explosive undercover look at the China's electronic industry will never be able to forget how it is killing and maiming workers as young as in their early teens.
The film follows the stories of workers whose legs stopped working because of the n-hexane they used to clean the screens of iPhones and iPads, as well as other smart phones, like Samsung.
Still other workers were struck by deadly leukemia within months of starting work at China's electronic factories, exposed to concentrations of benzene so high, they exceeded recommended limits by a factor of 300,000.
An international expert on global corporate social responsibility, White and her co-producer Lynn Zhang follow the workers whose lives are being cut short because of  flagrant disregard for worker health by suppliers and brands in the electronics industry.