Podcast: Play in new window | Download
Subscribe: Apple Podcasts | RSS
Andrew Forsthoefel tells us about his book, Walking To Listen (Bloomsbury Press.) It's the amazing story of what happened when he decided to walk across America to listen and learn life wisdom from whomever he encountered.
Then, we re-broadcast an edited version of our 2014 interview with Rob Okun about his book Voice Male: The Untold Story of the Pro-feminist Men's Movement (Interlink Books.)
Andrew Forsthoefel
We live in a divided country, where people pigeonhole others into categories of difference and then choose to fear and hate that difference. But what if you just set out to walk across the country and talk to people, from your heart to theirs?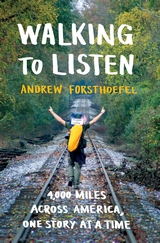 Remarkable things might happen, as Andrew Forsthoeffel found out when he did just that. At the age of 23, he was confronting some personal crises — not least, finding it hard to figure out how to grow up.
So he started out from his home just walking, not knowing how long he would be on the road or where it would take it him. It turned out to be a journey of 4000 miles across America — and the destination he arrived at was a deeper understanding of himself and his connection to others.
As his spiritual guides, he took with him Walt Whitman's Leaves of Grass and Rilke's Letters To A Young Poet. And then he let his heart and his sincerity open the path before him. The book that emerged from his journey is Walking To Listen: 4,000 Miles Across America, One Story at a Time.
Andrew Forsthoefel is a writer based in Northampton, MA. He gives workshops on walking and listening. His radio documentary about his journey across America aired on This American Life.
Rob Okun (encore)
Improvements in opportunities for women have been great since the modern feminist movement began in 1970. Yet women still earn about 77% of the pay men do in similar jobs. They are still 85% of the victims of domestic violence, with about a quarter of all US women assaulted at some point in their lives. About a million domestic violence incidents are reported every year — the tip of the iceberg.
Rob Okun says that men need to step up to the plate to fight for women's equal rights and an end to domestic violence. What's at stake is not only ending injustice against women but also promoting the freedom for men to become more fully themselves as human beings. Society's notions of masculinity rob men of connection to their inner selves and to others, Okun says. Men can only be free if women are.
Okun been dedicating himself to the pro-feminist cause since the early 1980's. He was a founder of the Men's Resource Center for Change in Amherst, MA, and started that organization's magazine Voice Male in 1982.
He now publishes it independently and his 2014 book Voice Male: The Untold Story of the Profeminist Men's Movement has brought together articles from Voice Male over the years.  WV interviewed Okun in 2014.
credit: Song "Idle Tales" Cowboy Junkies, The Wilderness