Podcast: Play in new window | Download
Subscribe: Apple Podcasts | RSS
Ted Rall talks about his new book, Trump. Then, new revelations indicate serious conflicts of interest between Hilary's State Department and the Clinton Foundation. In light of renewed scrutiny of the foundation, we talk with investigative reporter Ken Silverstein about his 2015 article for Harper's Magazine, "Shaky Foundations."Ted Rall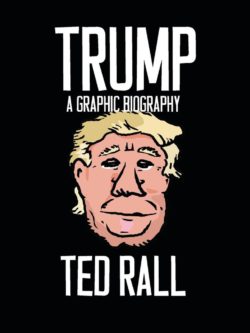 If you believe current forecasts, Donald Trump isn't all that likely to become President of the United States in November. But whatever happens on Election Day, Trump has changed the political landscape. Some see his rise as a sign of encroaching fascism, allowing extreme rightwing views about immigrants and Muslims to gain currency.
But while his message of hate and intolerance excites a portion of his base, is it really the main reason for Trump's support? Or is it something else; something that has more to do with the destruction of good union jobs and the disappearance of the middle class?
Cartoonist Ted Rall has just come out with a political biography of Trump the candidate, along with some anecdotes from Trump's past — from his boyhood at military school to his career as a ruthless real estate tycoon. Trump: A Graphic Biography is an antidote to the media's failure to understand what is behind the Trump phenomenon and why it matters.
Ted Rall is the author of numerous graphic books, including his most recent, Bernie and Snowden. Listen to our interviews with him about those books here and here.
Ken Silverstein
New details emerged this week on the ties between the Clinton Foundation and the State Department during Hillary Clinton's tenure there. According to the AP:
More than half the people outside the government who met with Hillary Clinton while she was secretary of state gave money — either personally or through companies or groups — to the Clinton Foundation. It's an extraordinary proportion indicating her possible ethics challenges if elected president.

At least 85 of 154 people from private interests who met or had phone conversations scheduled with Clinton while she led the State Department donated to her family charity or pledged commitments to its international programs, according to a review of State Department calendars released so far to The Associated Press. Combined, the 85 donors contributed as much as $156 million. At least 40 donated more than $100,000 each, and 20 gave more than $1 million.

Combined, the donors shelled out as much as $156 million, with at least 40 donating more than $100,000 each and 20 shelling out more than $1 million…
That kind of money can buy an awful lot of access — to jobs, to fat contracts, to influence.
In his November 2015 piece for Harper's, "Shaky Foundation," investigative reporter Ken Silverstein wrote, "the Clintons' so-called charitable enterprise has served as a vehicle to launder money and enrich family friends." 
Silverstein is no Hillary bashing right-winger. But good journalism follows the money wherever it may lead and Silverstein says all signs point to serious ethical violations by the person who could be the next president of the United States. Given the recent revelations about the Clinton Foundation, we thought it would be a good time to catch up with Silverstein about the issue.
A long time investigative journalist,  Silverstein is a contributing writer for VICE and columnist for the New York Observer. Check out his blog at Washington Babylon.