Podcast: Play in new window | Download
Subscribe: Apple Podcasts | RSS
We spend the hour with acclaimed author Russell Banks, first talking about his new book, Voyager, a travel and personal memoir. Then we re-air our 2011 interview with him about his novel Lost Memory of Skin.
Please consider giving Writer's Voice a positive review on iTunes or any other podcast platform so you can spread the word to other listeners. Thanks!
Russell Banks: Voyager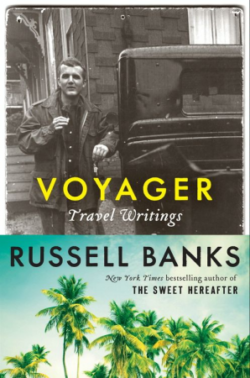 Russell Banks is one of America's greatest living writers — Joyce Carol Oates called him a "writer in the grand tradition." Best known for his novels, like Affliction and The Sweet Hereafter, his latest book, Voyager, is a work of nonfiction.
It mixes deeply personal memoir with travel essays spanning his journeys to the Caribbean islands of the Antilles to Alaska to the Himalayas.
In each of the essays, Banks considers his life and the world. In Everglades National Park this "perfect place to time-travel," as he calls it, he traces his own timeline, seeing more and more of his past selves each time he returns. Recalling his trips to the Caribbean in the title essay, "Voyager," Banks dissects his relationships with the four women who would become his wives. In the Himalayas, he embarks on a different quest of self-discovery, challenging the limits of his endurance.
Russell Banks' main works include the novels Cloudsplitter, The Sweet Hereafter, and Affliction. He won the John Dos Passos Prize for fiction in 1985 and was elected a Fellow of the American Academy of Arts and Sciences in 1996.
Russell Banks: Lost Memory of Skin (encore)
Russell Banks tells the stories of working class people with a deep affection and respect: unsparing in painting the struggles of their lives, he shows the strengths they reach for in response. Lost Memory of Skin continues this tradition.
It tells the story of a young man, known only as The Kid. Cast out of society as a convicted sex offender, he's homeless, because he can't live anywhere within 2500 feet of where children may congregate. The only place available to him is a rough encampment under a causeway.
Despite the stain of his crime, the reader's sympathies are with The Kid. That's because he seems like basically a good guy — he cares deeply for his pet iguana, he's harder on himself than he needs to be, and he's searching for a way to become a better person despite the attempts of society to slap him down at every turn. And we sense that his punishment is way out of proportion to his crime.
But Lost Memory of Skin is about more than one young sex offender. It holds up a mirror to society itself, showing the hypocrisy that leads it to ostracize a young man like The Kid, while pushing the pornographic currency of sex and violence in media and the culture.
Hear more of our interviews with Banks