Podcast: Play in new window | Download
Subscribe: Apple Podcasts | RSS
We feature the work of two political cartoonists who have come out with graphic biographies: Ted Rall talks about his new graphic bio of Edward Snowden, Snowden. And then British cartoonist Kate Evans talks about her  new graphic biography of the revolutionary leader, Rosa Luxemburg, Red Rosa.
Ted Rall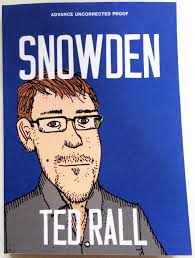 Ted Rall is quite possibly America's most revolutionary political cartoonist — witness his book, The Anti-American Manifesto, which we spoke to him about in 2011. His acerbic drawings have been skewering American political life for a long time, ruffling the feathers of politicians and mainstream media alike.
Now he's turned his prolific drawing pen to biography: Snowden (Seven Stories Press, 2015), his graphic biography of the young security analyst who blew the whistle on what Rall calls "one of the most important stories of my time." And he's about to release a biography of Bernie Sanders — which we'll be talking to him about early in 2016.
In Snowden, Rall reveals new details about Snowden's escape from Hong Kong and shares some of his theories on what makes him tick — why Snowden, and none of the other 1.4 million people who knew about it, blew the whistle on the all-pervasive and illegal surveillance of Americans by the NSA.
Rall also explains the NSA programs themselves in vivid detail — leaving the reader in no doubt about the unprecedented political and technological threat they pose to democracy.
Listen to Ted Rall on Bernie Sanders and Hillary Clinton
Kate Evans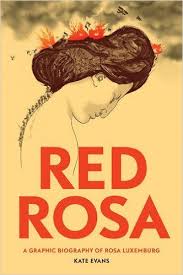 Rosa Luxemburg was a giant in the history of the political left — a leader of the German socialist workers movement in the early 20th century, an opponent of the First World War, and a brilliant writer and speaker.
She overcame incredible challenges to become one of the most brilliant critics of capitalism: physical disability, discrimination against women, and antisemitism. She became a leader of the German Social Democratic Party, developing important theories on creating democratic revolutionary movements.
But she wasn't all politics — she was an eloquent and poetic writer who appreciated beauty. She was also a believer in — and practitioner of — the full expression of female sexuality.
British cartoonist Kate Evans was called "one of the most original talents in comics" by The Guardian newspaper. Her stunning biography about Luxemburg is Red Rosa.