Podcast: Play in new window | Download
Subscribe: Apple Podcasts | RSS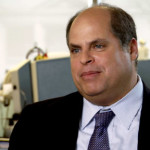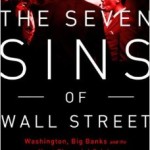 Bloomberg News financial journalist Bob Ivry talks about his book, The Seven Sins of Wall Street: Big Banks, their Washington Lackeys, and the Next Financial Crisis (PublicAffairs.)We also have our picks for summer reading.
Bob Ivry
When it comes to crying needs like affordable housing, health care, living wages, cleaning up the environment and supporting schools, we always hear: there isn't enough money. But when it looked like the big banks were about to go under in 2008, the US government had no trouble rustling up $750 billion dollars in a couple of days to bail them out.
Over the years since, the Federal Reserve has added several trillions to that, practically giving money away to the banks and then buying it back at a higher price. Banks and their casino economy are even bigger than before – now they're not just betting on subprime mortgages, but on commodities like electricity and metals that determine the prices of basic goods. And, as always, the US taxpayer is on the hook for bailing them out when things go wrong. Even the housing market hasn't recovered and US taxpayers currently guarantee 90% of mortgages.
Financial reporter Bob Ivry says it all amounts to a leveraged buyout of the US, where Wall Street is making out like bandits while the rest of us shoulder all the risk. In his terrific book, The Seven Sins of Wall Street, Ivry lays out in scorching prose what's been happening since 2008 — and why we're headed for another financial meltdown unless we break up the big banks and put an end to too big to fail.
Those seven sins? "Size, secrecy, pride, greed, impunity, complexity, and immunity from adequate regulation." Ivry skewers the banks and the Feds, while sharing the compelling stories of whistleblowers and ordinary Americans who fought back against corruption and injustice.
The Seven Sins of Wall Street is a ferociously tragicomic expose of how the US taxpayers' bailout of Wall Street resulted in the big banks getting bigger, our economy more fragile, and ordinary Americans more at risk.
Bob Ivry is an investigative reporter for Bloomberg News. His articles have won numerous awards, including the 2009 George Polk Award. BusinessInsider.com recently named Ivry one of "The 101 Finance People You Have to Follow on Twitter."
Read an excerpt from The Seven Sins of Wall Street
Writers Voice Summer Reading List
Summer has arrived and with it the summer reading season. Whether you go to the beach, the mountains, or just put your feet up on the porch rail during your staycation, here are some books you might want to check out.
Matt Taibbbi, DIVIDE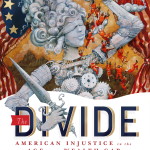 After reading Bob Ivry's Seven Sins of Wall Street, you could follow up with Matt Taibbi's powerful new book Divide: American Injustice In The Age of The Wealth Gap (Spiegel and Grau.)Â Like Ivry, Taibbi has made covering Wall Street malfeasance his bailiwick — with an acidly funny pen that rivals Ivry's. But in Divide, he tackles the gross disparity in our system of criminal prosecution that targets the poor and powerless for minor and even nonexistent crimes while letting the big banksters go scot free. It's a ferocious indictment of the American Injustice system that will leave you outraged.
Glenn Greenwald, NO PLACE TO HIDE
Another shocking tale is told by Glenn Greenwald in No Place To Hide: Edward Snowden, The NSA, and the U.S. Surveillance State (Metropolitan Books.)Â Greenwald, of course, is the journalist who blew Snowden off for months until documentarian Laura Poitras convinced him Snowden was the real deal. They went to Hong Kong to meet the brilliant young whistleblower and the world hasn't been the same since. Nowhere to Hide tells the gripping story of the Snowden revelations and details just how deep and wide Big Brother's penetration into every aspect of our electronic lives has become. Read it; then, in the immortal words of Mother Jones, don't mourn, organize!
Dr. Richard Horowitz, WHY CAN'T I GET BETTER?
Summer is tick season — and Lyme disease rates continue to soar. There's a lot of controversy over whether the disease can turn chronic but if you want an in-depth examination of the case for chronic Lyme, go no further than Dr. Richard Horowitz' book, Why Can't I Get Better? (St.Martin's Press.) Horowitz covers how to detect Lyme, co-morbidity with bacterial and other infections, Lyme's impact on the body, including the immune system, hormones, and the brain, and finally treatment, including non-drug methods like exercise and meditation.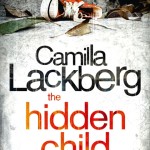 Camilla Läckberg, THE HIDDEN CHILD
In the thriller department, Swedish crime writer Camilla Läckberg's novel The Hidden Child (Pegasus Crime.) turns on both historical and contemporary themes of rightwing extremism in Europe. The protagonist is a crime writer who delves into her traumatic past to uncover a dark secret that links a World War II era murder to a contemporary neo-Nazi group. The novel is one of those formulaic but satisfying page turners that leave you surfacing at the end with a sigh of guilty pleasure.
The Editors of TIME For Kids BIG BOOK OF WHEN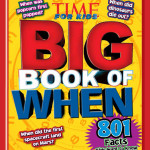 Finally, the kids need to read, too. When I was what they now call a "middle reader", my favorite books were of the "fascinating facts" variety — books that served up lots of tidbits of information with which I could satisfy my insatiable curiosity. Time – The Kids Magazine has published a series of these books. There's TIME for Kids Big Book Of How and the TIME for Kids Big Book of Why. And now TIME For Kids Big Book of When: 801 Facts Kids Want To Know. Covering such topics as time itself, animals, communication, energy, civilizations and the digital age, among others, it's a colorfully illustrated book with engaging prose that will have your kids impressing friends and family.
Have fun!