Podcast: Play in new window | Download
Subscribe: Apple Podcasts | RSS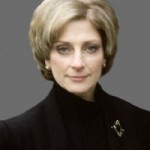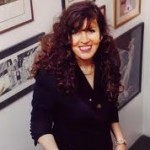 Nutritionist Deborah Kesten shares the results of her research into losing weight and keeping it off. Her book is MAKE WEIGHT LOSS LAST. Then, Francesca's story about a master chef's philosophy about food. And Drew reviews ALL THE ART THAT'S FIT TO PRINT (And Some That Wasn't): Inside The New York Times Op-Ed Page and talks with the author, Jerelle Kraus.
Deborah Kesten
The holidays are upon us again and, with them, plenty of chance to gain weight. Many of us will go on a diet after the holidays are over and maybe we'll lose those extra pounds. But often, even if we lose them, they creep back on.
We all know it's easier to lose weight than to keep it off.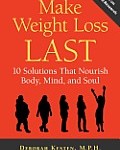 So how can we make weight loss last? That's the subject of nutritionist Deborah Kesten's book, MAKE WEIGHT LOSS LAST: 10 solutions that nourish mind body and soul. Co-written with her husband Larry Scherwitz, Make Weight Loss Last says we need to forget about counting calories and focus on changing the whole way we relate to food. We need to make eating both more pleasurable, pay more attention to our food when we eat, and share meals with others.
Kesten gained insights from traditional societies, spiritual traditions, and scientific research. She is a nutrition researcher, educator, and coach who specializes in preventing and reversing obesity and heart disease. She was the nutritionist on Dr. Dean Ornish's first clinical trial for reversing heart disease through lifestyle changes. In addition to Make Weight Loss Last, she's also the author of Feeding the Body, Nourishing the Soul, and The Healing Secrets of Food.
Learn more at www.MakeWeightLossLast.com
STORY: The Food Philosophe by Francesca Rheannon
Host Francesca Rheannon spent several months living in southern France in 2001-2002. Soon after her arrival in the Fall of 2001, she soon became good friends with a couple living in the old Roman town of Apt. She had been introduced to them — Michel, a chef, and his wife, "Magali" (not her real name) — by her friend, the writer Fabienne Pasquet.
On December 21, Magali and Michel threw a dinner party to celebrate the Winter Solstice. The food was divine, the wine likewise, and the company convivial — and Francesca ended up learning a profound lesson about the French Art of Living.
Francesca wrote up her experience in the story, "The Food Philosophe," part of a longer memoir of her sojourn in Provence. She reads it this week for Writers Voice, aided by former Writers Voice co-host, Daisy Mathias, who plays the part of Magali.
Read the whole story, "The Food Philosophe"
REVIEW by Drew Adamak: All the Art That's Fit to Print (And Some That Wasn't): Inside The New York Times Op-Ed Page by Jerelle Kraus
Jerelle Kraus was the New York Times Op-ed page art director for thirteen years, the longest tenure at that position at the Times. Over the course of a thirty-year career with the Times, she helped usher in a new era of op-ed art that deepened the impact of opinion writers, current affairs reporting and editorials.
Her new book, All the Art that's Fit to Print (And Some That Wasn't): Inside the New York Times Op-ed Page, chronicles her time as the art director for the op-ed page. But this book is so much more than a simple biography. It is a lush and richly illustrated history of iconic imagery that evokes the most important events of the last thirty years.
What is op-ed art and illustration?
While one may not notice it, every day, the opinion pages of newspapers are filled with doodles, small illustrations, large images and occasssionally full page sized art that relates to and deepens the text. In the case of the New York Times, that art was often done by famous artists such as Ralph Steadman, Maurice Sendak, Charles Addams, and Keith Haring.
For All the Art that's Fit to Print, Kraus has collected, in one volume, over 300 of these images, from over a 100 artists, and put them together chronologically with her personal commentary, professional insight and offers background on their creation, popular reception and often, editorial rejection.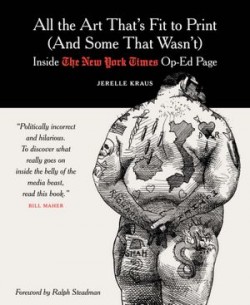 However, there are no political cartoons or carticutures in this collection. Rather the art contained in this collection is illustrative of the ideas and themes of articles of opinion. A story on Henry Kissinger's war crimes may be accompanied by an image of him covered in bloody tattoos or a story about George W. Bush's abilities may show him cheating on an eye exam.
The real treasure of this book is the art that was rejected by editors for failing to meet the Times strict, and sometimes Puritan, standards. Kraus includes almost 100 images that were rejected for either being too political, too racy or too obscure. A reader feels like an insider at the editorial battles that must have raged minutes before deadline as she details the thinking and arguments behind the rejection.
All the Art that's Fit to Print is really about the storytelling power of art. The truly beautiful part of reading this is the instant recognition of important events and people in our history contained in a single, powerful image.
I spoke to Jerelle about the book, why Henry Kissinger got a free pass from the Times and the power of art to move us in ways words alone cannot.