Podcast: Play in new window | Download
Subscribe: Apple Podcasts | RSS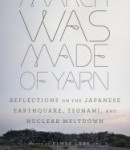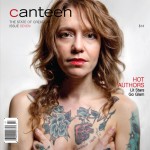 Elmer Luke talks about MARCH WAS MADE OF YARN: Reflections on the Japanese Earthquake, Tsunami, and Nuclear Meltdown; Marvin Kitman on Rupert Murdoch (encore); and publisher Stephen Pierson & contributor Rich Benjamin talk about the literary magazine Canteen.March Was Made of Yarn
On March 11, 2011, Japan underwent a triple disaster: a 9.0 earthquake, the resulting tsunami that erased large portions of the northeastern coast, and the meltdown of several reactors at the Fukushima Daiichi nuclear plant as a consequence of the tsunami.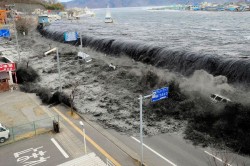 A book just out from Vintage Press marks the first anniversary of these tragic events. It's a collection of literary pieces from 18 mostly Japanese writers. They run the gamut from fiction and nonfiction to poetry and manga, bringing together some of the most illustrious names in contemporary Japanese writing.
Elmer Luke and his colleague David Karashima translated and edited the collection, entitled MARCH WAS MADE OF YARN: Reflections on the Japanese Earthquake, Tsunami, and Nuclear Meltdown. All royalties from the book's sale will be donated to earthquake relief and radiation cleanup in northeastern Japan.
Elmer Luke is a writer and editor and adviser to the Read Japan project of the Nippon Foundation. His co-editor on March Was Made of Yarn, David Karashima, is a novelist and translator of contemporary Japanese fiction into English. In 2008 Karashima helped found the Read Japan initiative.
Marvin Kitman on Rupert Murdoch
Both Rush Limbaugh and his boss were on the hot seat this week. Limbaugh, because of his disgusting assault on women's health advocate Sandra Fluke. The shock jock has the most listened-to talk show in America, some 50 (0r 3 or 15 or 30 or who knows how many?) Â million listeners every day. Let's hope that is beginning to change.
But the man behind the Master of Bile and Bombast is Rupert Murdoch — and the scandal plaguing him seems to be jumping the Big Pond with allegations that he might have violated the Foreign Corrupt Practices Act. According to the AP, the FBI is investigating a suspected pattern of bribery and corruption at Murdoch's News Corp. outlets abroad.
Well, at one time, the US was "abroad" to Rupert Murdoch, who was born and bred in Australia. In 2010, Francesca interviewed journalist Marvin Kitman about his Harpers Magazine article examining how Murdoch got his start in the US. Kitman wrote that it took luck, a willingness to skirt the law, and an FCC that fell down on its job. WV airs an excerpt this week.
Listen to the full interview here.
Stephen Pierson and Rich Benjamin on Canteen
The magazine Canteen is on a mission to restore to the cultural landscape a kind of "slow lit" esthetic. To wit, the magazine's description of itself:
"In an era of instantly read and forgotten information, Canteen believes that some words should be saved, savored, and valued. We try to accomplish this not only by publishing memorable and provocative content, but also by delivering it in a beautiful format."
Canteen, whose tag line is "the state of creation," combines photography and literature in its issues, which come out, oh, when they are ready. In its five years of existence, it has published seven issues, the latest of which is Hot Authors: Lit Stars Go Glam.
Canteen also runs a writing workshop for middle school students in Harlem. Publisher Stephen Pierson and contributor Rich Benjamin talk about the magazine and its work with kids. Benjamin has appeared previously on WV talking about his book, Searching for Whitopia. He's a Senior Fellow at the think tank, Demos.