Podcast: Play in new window | Download
Subscribe: Apple Podcasts | RSS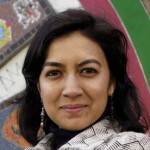 Novelist Tahmima Anam discusses her novels of Bangla Desh. In 2008, WV spoke with Anam about her acclaimed debut novel A GOLDEN AGE. It was about one family's experience in the Bangla Desh struggle for independence from Pakistan. Now she's back with a terrific sequel: it's called THE GOOD MUSLIM. WV airs our interviews about both books today. And host Francesca Rheannon reads two poems of the Bengali writer, Rabindranath Tagore.
The Good Muslim
Tahmima Anam's first novel A Golden Age told the story of the widow Rehana Haque and her two teenage children as they become involved in Bangladesh's struggle for independence. The Liberation War was an armed conflict that pitted East Pakistan and India against West Pakistan. It ended in the secession of East Pakistan, which became the independent nation of Bangladesh.
A brutal conflict, with many of the features that have become typical of modern civil war (including mass rape and the targeting of civilians) the fight was about more than political independence — it was also about democracy vs. dictatorship, language and religion.
Anam's first book showed how becoming active in the struggle changed the widow Rehana Haque. Now in her new novel THE GOOD MUSLIM she explores what happened to Rehana's children, Maya and Sohail — how the war of independence changed them and how they each deal so differently with the lesions the trauma of war has seared into their souls.
Tahmima Anam was born in Dhaka, Bangladesh in 1975. She was raised in Paris, New York City, and Bangkok. Her writing has been published in Granta, The New York Times, and the Guardian. Her debut novel A Golden Age won the 2008 Commonwealth Writers Prize for Best First Book. It was translated into 22 languages.
A Golden Age
When Tahmima Anam went back to her native Bangla Desh to do research for her doctoral thesis in anthroplogy, she gathered testimony from scores of survivors of Bangla Desh's 1971 War of Independence from Pakistan. The conflict occurred four years before she was born, and she left the country at the age of two, living in Europe and America and eventually attending Mount Holyoke College in western Massachusetts.
Her novel, A GOLDEN AGE, is the first of her two novels about a family that is changed by Bangla Desh's struggle for independence. It begins the story that is continued in her latest book — the story of the widow Rehana Haque and her teenage children Maya and Sohail. She becomes involved in the fight for freedom partly to pay off a decade old-debt to her children — a debt incurred, Rehana feels, when she had to give them up for several years after she was widowed. The novel is a sensitive foray into the bonds of family and patriotism, in the best sense of the word, and how they intersect.
Rabindranath Tagore
When I was growing up, the works of the great Indian/BanglaDeshi poet Rabindranath Tagore graced the bookshelves of my parents' library. I was always enchanted by his musical name — later, by the beauty of his poetry. I'll read a few short poems he wrote that are very apt to the subject of today's show, but first, here's a little about his life, from the website eThikana: Great Personalities of Bangla Desh:
"Rabindranath Tagore, mystic, painter and Nobel laureate for literature is among the leading personalities of modern Bangladesh & India. He was born in Calcutta on May 7, 1861 and was the youngest of fourteen children. His father, Debendranath Tagore, was a Sanskrit scholar and Rabindranath's early education was imparted at home. In school, while others learned their lessons, he would slip into more exciting world of dreams. Inspired by his older nephew, he wrote his first poem when he was barely seven. At the age of seventeen, his first book of poems was published.

Tagore was awarded the Nobel Prize in Literature in 1913 for his collection of well known poems Gitanjali. Tagore was knighted by the ruling British Government in 1915, but within a few years he resigned the honour as a protest against British policies in India.

Tagore had early success as a writer in his native Bengal. With his translations of some of his poems he became rapidly known in the West. In fact his fame attained a luminous height, taking him across continents on lecture tours and tours of friendship. For the world he became the voice of present Bangladesh & India's spiritual heritage; especially for Bengal, he became a great living institution."
Tagore's poems Leave This and Mind Without Fear