Podcast: Play in new window | Download
Subscribe: Apple Podcasts | RSS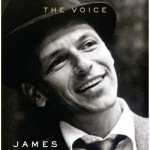 Author James Kaplan talks about his riveting biography of Frank Sinatra, FRANK: The Voice (Doubleday, November 2010.) And clips of Sinatra's singing are aired, from his early years as part of Tommy Dorsey's orchestra to James Kaplan's own Sinatra favorites, arranged by Nelson Riddle.
James Kaplan's acclaimed biography of Frank Sinatra reads like fast-paced hard-boiled fiction. It takes the reader on a fascinating journey through the life one of America's greatest musical talents. It's a personal history, a cultural history, and a musical history of Frank Sinatra's life, loves and times, one that will keep you reading with delight until the very end.
FRANK: The Voice is the first volume of two. It begins with Sinatra's traumatic birth and his rocky, intense relationship with his mother, then goes on to recount his scrabble to get a toe-hold in the music industry and the ruthless ambition and musical genius that propelled him to the very top of the charts and into the hearts of millions of teenage bobby-soxers.
Then the fall came, fueled by scandal — and character assassination — and ending with his near-miraculous comeback by way of Hollywood, winning the Oscar for best-supporting actor for From Here to Eternity. It's a wild ride, with stops along the way to delve into Frank's steamy love affairs, his grand passion with Ava Gardner, and his relationship with the Mob, as well as his progressive political views.
I'll Never Smile Again – Tommy Dorsey & The Pied Pipers from iTubeNL on Vimeo.
.
James Kaplan is the author of novels, essays, and nonfiction books, including Two Guys From Verona, The Airport, and the 2005 Dean and Me: A Love Story, co-written with Jerry Lewis.
Read an excerpt from FRANK: The Voice