Podcast: Play in new window | Download
Subscribe: Apple Podcasts | RSS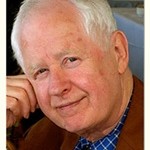 For St. Patrick's Day, host Francesca Rheannon visits Alphie McCourt in his New York apartment to talk about [amazon-product text="A LONG STONES THROW" type="text"]0981453554[/amazon-product], his memoir of growing up in Ireland and his emigration to the U.S.  And author consultant Bill Martin and novelist Beverly Swerling, talk about how to find a literary agent. They own and run Agent Research and Evaluation , a Web-based consultancy for writers.
[amazon-product align="right"]0981453554[/amazon-product]
Alphie McCourt isn't as famous a writer as his two older brothers, Frank and Malachi McCourt. In fact, until recently, he wasn't a writer at all. He was a restauranteur and then a building manager in New York City. But he's got the same talent for memoir as his more celebrated siblings. He's just come out with a memoir of growing up in Limerick, Ireland and, after emigrating, his life here in the U.S. A LONG STONE'S THROW contains wry observations of both cultures, passages of great lyricism and darker observations of poverty and injustice in his native land.
UPDATE: Alphie McCourt's brother Frank McCourt died on July 19, 2009. Here's McCourt's remembrance of him.
Bill Martin and Beverly Swerling help authors find literary agents that will represent them well. Swerling comes at it as a successful novelist (CITY OF GOD, CITY OF GLORY, CITY OF DREAMS and others). Martin has been researching and evaluating agents for 25 years. They tell us what to look for–and what to look out for–when searching for an agent.