Podcast: Play in new window | Download
Subscribe: Apple Podcasts | RSS
We spend the hour with David Lipsky talking about his new book, The Parrot and The Igloo: Climate and the Science of Denial. It's about the sordid history of climate denialism, its deep roots in the industry of tobacco denialism, and its pernicious impact on the public's trust in science.
Writers Voice— in depth conversation with writers of all genres, on the air since 2004.
Find us on Facebook at Writers Voice with Francesca Rheannon, on Instagram and Threads @WritersVoicePodcast or find us on X/Twitter @WritersVoice.
Love Writer's Voice? Please rate us on your podcast app. It really helps to get the word out about our show.
Key words: David Lipsky, climate change, global warming, science, climate denial, podcast, book recommendations, author interview, book podcast, book show, creative nonfiction, history, writer's voice, Francesca Rheannon,
From Climate Science to Climate Denial
If you think the reality of climate change is something that was only apparent in the last 30 or so years, think again. In 1956, the New York Times prophesied that once global warming really kicked in, we could see parrots in the Antarctic.
Fast forward to 2010, when Senator James Inhofe built an igloo on the Washington Mall and put a sign on top, Al Gore's new home, "HONK IF YOU LOVE CLIMATE CHANGE." (He's pictured at the top of the page with his famous snowball.)
David Lipsky, The Parrot and the Igloo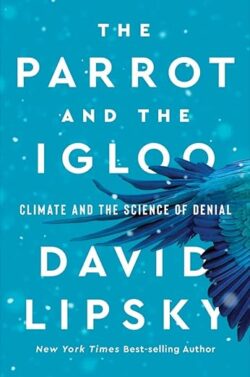 In his book, The Parrot and the Igloo, David Lipsky tells a story of how we moved from climate reality in 1956 to climate denial in 2010 (and beyond).
The book traverses the course of the intervening decades with the stories of the hucksters, zealots, and crackpots who lied about climate science and misled the public in ever more outrageous ways.
One of the most interesting threads in The Parrot and the Igloo is how intertwined tobacco denialism and climate denialism have been all along, sharing PR firms, campaign talking points, and even so-called expert spokespeople to spread the corporate propaganda of their client industries.
The Parrot and the Igloo is, among other kudos, a New York Times Editor's Choice and a New Yorker Best Book of 2023.
About the Author
David Lipsky is a contributing editor at Rolling Stone. His fiction and nonfiction have appeared in The New Yorker, Harper's, The New York Times, and many other venues. In addition to The Parrot and The Igloo, he's the author of the novel The Art Fair; a collection, Three Thousand Dollars; and the bestselling nonfiction book Absolutely American.
Read an excerpt from The Parrot and The Igloo
Next week on Writer's Voice: we talk with Kerri Maher about her novel All You Have To Do Is Call. It's about the legendary abortion service Jane in Chicago in the early 1970s. Also, Tan Twan Eng tells us about his novel, The House of Doors. Don't miss it!