Podcast: Play in new window | Download
Subscribe: Apple Podcasts | RSS
Paul Kix tells us the thrilling story of the fight to end Jim Crow, led by the greatest figures of the Civil Rights Movement—and won by children. We spend the hour with Kix talking about his book, You Have To Be Prepared To Die Before You Can Begin To Live: Ten Weeks In Birmingham That Changed America.
Read Transcript of Interview with Paul Kix
Writers Voice— in depth conversation with writers of all genres, on the air since 2004.
Find us on Facebook at Writers Voice with Francesca Rheannon, on Instagram and Threads  @WritersVoicePodcast or find us on X/Twitter @WritersVoice.
Love Writer's Voice? Please rate us on your podcast app. It really helps to get the word out about our show.
key words: writers voice, podcast, book recommendations, author interview, book podcast, book show, creative nonfiction, history, Paul Kix, Civil Rights
Project Confrontation
It was the Spring of 1963. The civil rights movement was in disarray: the victory of the 1955 Montgomery bus boycott hadn't translated into weakening Jim Crow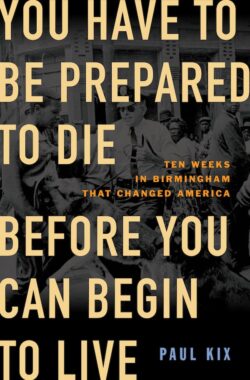 anywhere in the South—not even in Montgomery, where the buses had gone back being segregated.
Something had to be done; something drastic and dramatic that would focus the nation's attention on the fight for racial justice.
That something was Project Confrontation: a plan to challenge Jim Crow in the very apotheosis of white supremacist terror, Birmingham, Alabama — a place journalist Edward R. Murrow likened to Nazi Germany.
Ten Weeks in Birmingham, Alabama
Journalist Paul Kix tells the riveting story of those ten weeks in Birmingham that changed America in his book, You Have To Be Prepared To Die Before You Can Begin To Live.
During that time, Project Confrontation managed — just barely — to snatch victory from the jaws of defeat. It's a story of incredible courage facing vicious brutality, of brilliant strategy and true genius and, finally, a story of what people can do when they are prepared to die in order to live in freedom.
About the Author
Paul Kix is a nonfiction author and journalist. He's also the author of The Saboteur, a best-selling account of the world's most daring World War II commando. You Have To Be Prepared To Die Before You Can Begin To Live is out from Celadon Press.