Podcast: Play in new window | Download
Subscribe: Apple Podcasts | RSS
Writer's Voice spends the hour with Jonathan Eig talking about his acclaimed new biography, KING: A Life. It's a captivating portrait of the renowned civil rights leader, unveiling new material and providing an intimate perspective.
"He suffered tremendously from doubt. And he suffered terribly from the effects of the FBI assault on him. He kept doing his work. He kept marching forward. He kept going more and more boldly into the breach. But it had an impact. He was hospitalized several times, maybe, fair to say, many times for exhaustion, for just succumbing to the stress of what he was doing. So that kind of courage in the face of doubt, to me, makes him even more heroic." — Jonathan Eig
Writers Voice— in depth conversation with writers of all genres, on the air since 2004.
Like us on Facebook at Writers Voice with Francesca Rheannon, on Instagram @WritersVoicePodcast or find us on Twitter @WritersVoice.
Love Writer's Voice? Please rate us on your podcast app. It really helps to get the word out about our show.
Key words: Dr. Martin Luther King, Jr., MLK, Jonathan Eig, history, biography, podcast, book recommendations, author interview, book podcast, book show, creative nonfiction
An Intimate Portrait
There have been many books written about Dr. MLK, Jr. But the one just published by Jonathan Eig stands out, not only for the new material Eig reveals but for the intimacy of his portrait of the famed civil rights leader.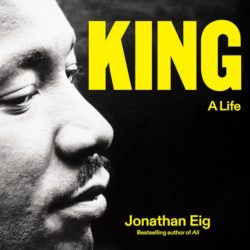 A Journey of Purpose
The book delves into Dr. King's upbringing, his initial hesitations about following in his father's preaching footsteps, and the pivotal moment when he realized that his path was chosen by a higher power, as he saw it, for the cause of racial justice.
Relentless Persecution
The book uncovers the relentless persecution endured by King at the hands of J. Edgar Hoover's FBI, who called the Reverend "the most dangerous man in America."
The Complex Man
King: A Life explores the multifaceted character of MLK, Jr., including his flaws as a man and husband, such as sexism and undervaluing women's leadership in the civil rights movement, as well as his tendency to borrow words from others in his writings.
Undaunted Courage
Eig writes movingly about King's profound courage in the face of unrelenting attacks and his undying faith in humanity. The book brings it all comes together in a spellbinding story written by a master storyteller.
Jonathan Eig is the author of six books, including a biography of Muhammed Ali.
New York Times Article about Freedom Riders
Coming up Next Week on Writer's Voice:
We talk with Allison Butler, THE MEDIA AND ME: A Guide to Critical Media Literacy for Young People. Also, Lizzie Stark tells us about her book, EGG: A Dozen Ovatures.