Podcast: Play in new window | Download
Subscribe: Apple Podcasts | RSS
Did you know that American English (not British English) is one of the very few languages that has no dialects? No matter where you are from in this big country, you can easily understand the speech of anyone else. That's true, even with having different regional accents or ethnic differences such as Black English.
That's one of the many fascinating things one learns from reading Ilan Stavans' anthology of writings in American English, spanning 450 years of our history as a nation. We talk with Stavans about The People's Tongue: Americans and the English Language.
Writers Voice— in depth conversation with writers of all genres, on the air since 2004.
Like us on Facebook at Writers Voice with Francesca Rheannon, on Instagram @WritersVoicePodcast or find us on Twitter @WritersVoice.
Love Writer's Voice? Please rate us on your podcast app. It really helps to get the word out about our show.
Key words: language, English language, Ilan Stavans, anthology, podcast, book recommendation
American English Spanning the Centuries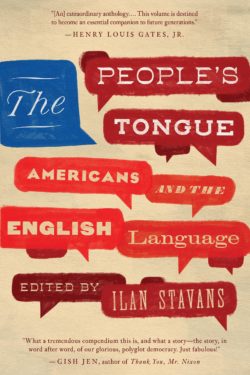 Ilan Stavans' anthology The People's Tongue features a wide array of letters, poems, memoir, stories, songs, documents, and essays, from Sojourner Truth and Abraham Lincoln to Henry Roth and Zora Neale Hurston, from George Carlin and James Baldwin to Louise Erdrich and hiphop artist Kendrick Lamar— all elucidating the breadth and depth of this free-wheeling, eclectic, ever-changing, immigrant-forged magnificent language of ours.
Stavans Brings Immigrant's Sensibility to Our Language
Ilan Stavans is an immigrant himself, and, as such, he has a deep understanding of how the immigrant experience has shaped American English, giving it a richness and elasticity that few other languages can rival.
But he also notes the debt it owes to the indigenous peoples of this continent, whose stamp on the land is most obvious in the numerous place names that remind of their presence — and of the settler's theft of their territory.
About the Author
Ilan Stavans is the author of many books and anthologies. He's professor of Humanities, Latin American and Latino Culture at Amherst College.