Laura Kaplan, JANE & Helen Shiller, DARING TO STRUGGLE, DARING TO WIN
Podcast: Play in new window | Download
Subscribe: Apple Podcasts | RSS
We talk with Laura Kaplan about her book, Jane: The women of the Legendary Underground Feminist Abortion Service. It's about how a group of ordinary women worked together to create the women-centered, women-empowering organization called "Jane" that operated in Chicago from 1969 to 1973.
But first, another Chicago story about organizing for justice. We talk with former Chicago Alderwoman and community activist Helen Shiller about her memoir, Daring To Struggle, Daring to Win: Five Decades of Resistance in Chicago's Uptown Community.
Writer's Voice — in depth conversation with writers of all genres, on the air since 2004. Rate us on your favorite podcast app! It really helps others find our show.
And like us on Facebook at Writers Voice Radio or find us on Twitter @WritersVoice.
Helen Shiller
Our first guest is someone Francesca first met in the Movement of the late 60's and early 70s, when they were both student radicals at the University of Wisconsin in Madison, fighting against the Vietnam War and against racist policies on campus.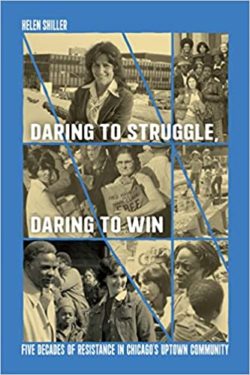 After they graduated, Francesca lost touch with Helen Shiller, but later learned she had become an alderman on Chicago's City Council.
How Shiller continued her fights of social justice from Madison to the streets of Chicago's working class Uptown community and then as an elected official forms the fascinating story she tells in her new book, Daring To Struggle, Daring To Win.
Through her memoir, Shiller shows the way to building multiracial, working class solidarity in the face of a brutal political machine and a racist system. Its lessons are powerfully relevant for social justice activists today.
Read a Review of Daring To Struggle, Daring To Win
Laura Kaplan
Nearly 50 years ago, women in America gained the constitutional right to abortion. In June of this year, they lost that right. What was it like before Roe v. Wade? It was a terrifying time to be a woman. As it is now, again.
The women's liberation movement of that earlier time organized abortion services all across the nation. The most legendary—and unique—was the Abortion Counseling Service Of Women's Liberation in Chicago, AKA Jane. The service's advertisements said, ""Pregnant? Don't want to be? Call Jane."
One of Jane's members was Laura Kaplan. Her 1995 book about the group, Jane, has just been reissued with a new introduction by the author. It comes at a time when you can view HBOs terrific new documentary, The Janes, but the book adds much more detail to that story.