Podcast: Play in new window | Download
Subscribe: Apple Podcasts | RSS
In honor of Hispanic Heritage Month, we air our 2019 interview with playwright and author Octavio Solis. We spoke with him about growing up the son of Mexican migrants in El Paso Texas. His book of stories based on that history is Retablos: Stories from a Life Lived Along the Border. Octavio Solis.
Then, a new novel from British novelist Freya Sampson, The Lost Ticket. It's one of those heart-warming but page-turning reads that makes you feel really good.
Writers Voice— in depth conversation with writers of all genres, on the air since 2004.
Like us on Facebook at Writers Voice with Francesca Rheannon, on Instagram @WritersVoicePodcast or find us on twitter @WritersVoice.
Love Writer's Voice? Please rate us on your podcast app. It really helps to get the word out about our show.
Octavio Solis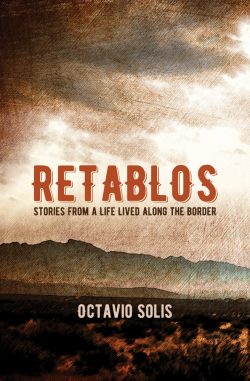 Octavio Solis is one of America's most prominent Latino playwrights. Author of over 20 plays, including Mother Road, currently running at the Oregon Shakespeare festival, Solis recently published his first collection of stories, Retablos (City Lights Press 2019). They are based on his own life growing up the son of Mexican migrants in El Paso, Texas.
Living in a home just a mile from the Rio Grande, Solis was a skinny brown kid on the border, growing up among those who live there, and those passing through on their way North.
The stories use memory as a muse to talk about his complicated relationship with his father, the Chicano movement that informed his view of politics at an early age, his estrangement from his brother, so like a border wall, and how the border is as much myth as reality, replete, as he writes, "with gods and monsters, heroes and fallen angels, troubadours and exiles."
Freya Sampson
Freya Sampson's two novels involve people helping others and discovering themselves in the process. Her first novel, The Last Library, was about a community coming together to save their local library.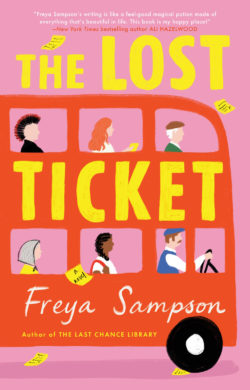 Her new novel, The Lost Ticket, brings a group of strangers together to help an old man in his quest to find and thank a young woman he met on a bus who changed his life.
When Libby Nicholls arrives in London, brokenhearted and with her life in tatters, the first person she meets on the bus is elderly Frank. He tells her about the time in 1962 that he met a girl on the number 88 bus . They made plans for a date at the National Gallery art museum, but Frank lost the bus ticket with her number on it. For the past sixty years, he's ridden the same bus trying to find her.
Libby decides to help Frank in his quest, enlisting the help of others who have their own burdens to bear. Throughout the twists and turns of The Lost Ticket, readers follow the characters as they meet challenges, forge connections, and discover hidden strengths, both in themselves and together.
Read an excerpt from The Lost Ticket
Next week on Writer's Voice, the theme is colonialism. We talk with Abdulrazak Gurnah, winner of the Nobel Prize for Literature in 2021. His new novel is After Lives. We also speak with fantasy writer R.H. Kuang about her novel Babel. Don't miss it!