Podcast: Play in new window | Download
Subscribe: Apple Podcasts | RSS
We talk with Jackie Higgins about her book, Sentient: How Animals Illuminate the Wonder of Our Human Senses.
Then we air our 2020 interview with Carl Safina about his book, Becoming Wild: How Animal Cultures Raise Families, Create Beauty, and Achieve Peace.
Writer's Voice — in depth conversation with writers of all genres, on the air since 2004.
Rate us on your favorite podcast app! It really helps others find our show. And like us on Facebook at Writers Voice Radio or find us on Twitter @WritersVoice.
Jackie Higgins
On June 14, New York's Supreme Court declared that an elephant is not a person.
Happy the elephant, the Guardian reported, will not be released from the Bronx zoo to a more spacious sanctuary through a habeas corpus proceeding, which is a way for people to challenge illegal confinement. The court said "granting legal personhood in a case like this would affect how humans interact with animals, according to the majority decision."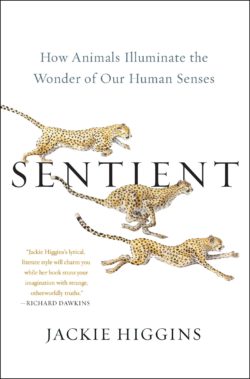 Indeed. What they really mean, is that it would call into question our use of animals as objects to exploit.
Anyone who has seen how elephants mourn understands that elephants are persons. Moreover, we humans are animals, a fact so obvious that only willful ignorance can deny it.
So changing how we interact with animals might be a good thing, not only to save and protect other animals, but also to preserve the biosphere on which we depend.
This is very much the perspective that informs Jackie Higgins book, Sentient.
Higgins shows the evolutionary links between our own senses and those of animals—senses that encompass not only the five we are so familiar with, but up to seventeen more senses.
Sentient explores the scientific revolution stirring in the field of perception, showing that the extraordinary sensory powers of our animal friends can help us better understand the same powers that lie dormant within us.
Carl Safina
Go here for information about our 2020 interview with Safina about Becoming Wild.