Podcast: Play in new window | Download
Subscribe: Apple Podcasts | RSS
Renowned ecologist and writer Carl Safina joins us to talk about his new book, BECOMING WILD: How Animal Cultures Raise Families, Create Beauty, and Achieve Peace.
Then, we talk with Margaret Klein Salamon, founder of The Climate Mobilization about her book FACING THE CLIMATE EMERGENCY: How To Transform Yourself With Climate Truth (with Molly Gage).
Writer's Voice — in depth progressive conversation with writers of all genres. On the air since 2004. Rate us on iTunes or whatever podcast app you use.
Carl Safina
The last time we spoke with ecologist Carl Safina, it was about his book, Beyond Words: What Animals Think and Feel. His new book, Becoming Wild goes deeper into one aspect of that: culture.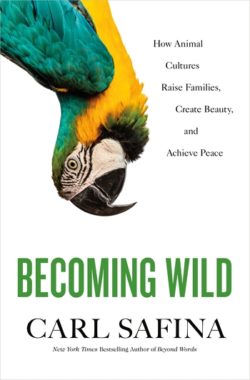 We think of what is learned from parents and one's social group as constituting culture in the human world. But it's just as true among many of the other animals we share the planet with.
Some whales have a babysitter culture; others a culture of song. Macaws are connoisseurs of beauty. And chimps learn how to be peacemakers.
In Becoming Wild, Carl Safina explores the cultures of whales, birds and chimps. With reporting from deep in nature, alongside individual creatures in their free-living communities, Becoming Wild offers a privileged glimpse behind the curtain of life on Earth. It helps to answer that most urgent of questions: Who are we here with?
Carl Safina is founder of the environmental advocacy organization the Safina Center. He hosted the 10-part PBS series Saving the Ocean with Carl Safina. His books include Beyond Words and The View From Lazy Point.
Read an excerpt from Becoming Wild.
Margaret Klein Salamon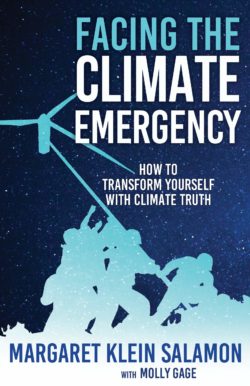 What if you are so paralyzed by despair at the climate crisis that you just ignore it because it's just too overwhelming to face?
Deal with it and get active, says Margaret Klein Salamon. But Salamon, a former clinical psychologist, also understands your pain. She feels it, too. Her new book, Facing The Climate Emergency, is a kind of self-help manual to confront the despair and turn it into joyous action.
That's what happened to her, when Hurricane Sandy slapped her in the face with climate reality and she decided to do something about it. She founded The Climate Mobilization, a grassroots environmental advocacy group working toward large-scale political action against global warming.
TAKE ACTION!
Open Letter to Congress to enact a Green Stimulus to Rebuild Our Economy
FIND OUT MORE ABOUT CLIMATE CRISIS POLICY