Podcast: Play in new window | Download
Subscribe: Apple Podcasts | RSS
Whatever happened to public goods? And how do we get them back?
That's the question we ponder this hour with Donald Cohen, talking about his book The Privatization of Everything: How the Plunder of Public Goods Transformed America and How We Can Fight Back.
We also remember Dr. Paul Farmer who died suddenly this week.
Writers Voice— in depth conversation with writers of all genres, on the air since 2004.
Love Writer's Voice? Please rate us on your podcast app. It really helps to get the word out about our show.
Donald Cohen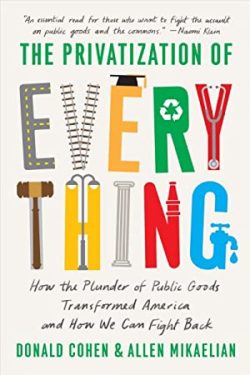 It seems like everything is being privatized. Not just public schools—charters, anyone? Not just college loan systems, municipal water systems, public health and fire departments but parking meters and the right to sue in court. Privatized, privatized, privatized.
When private interests take over, they strip public goods of their power to lift people up, creating instead a tool to diminish democracy, further inequality, and separate us from each other.
Donald Cohen is the founder of In the Public Interest. In his new book The Privatization of Everything, which he co-wrote with Allen Mikaelian, he chronicles the efforts to turn our public goods into private profit centers and how we can take public power back.
Dr. Paul Farmer
We were terribly saddened this week to learn that Dr. Paul Farmer passed away. He co-founded Partners in Health.
In 2010, we spoke to Tracy Kidder about his biography of Farmer, Mountains beyond Mountains, Partners in Health and the work of Partners in Health in Haiti after the earthquake.
Read an excerpt from Mountains Beyond Mountains