Podcast: Play in new window | Download
Subscribe: Apple Podcasts | RSS
We talk with graphic artist Joe Lee about his stunningly illustrated book, Forgiveness: The Story of Eva Kor, Survivor of The Auschwitz Twin Experiments.
Then Valerie Martin tells us about her new novel I Give It To You. It's a many-layered tale about what happens when an Italian friend tells a writer a story about her family in Mussolini's Italy.
Writers Voice— in depth conversation with writers of all genres, on the air since 2004.
Love Writer's Voice? Please rate us on your podcast app. It really helps to get the word out about our show.
Joe Lee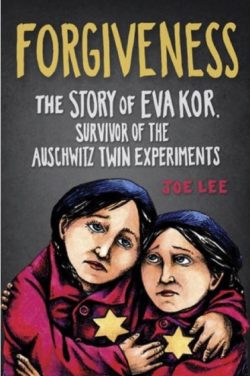 When Eva Mozes Kor was liberated from the Auschwitz death camp in January 1944, she was just a few days shy of turning eleven years old. That she survived at all was due to one thing: she was a twin.
Actually, it was also due to something else, as well: her indomitable spirit. It was a quality she brought years later to the fight to tell the story of the cruel experimentation on twins carried out on her, her sister and other children by the Nazi doctor Josef Mengele.
In 1978, she started to tell that story, but it wasn't easy. Her rage at the treatment she had suffered as a child sometimes turned people away.
For her own mental health, she had to find a way through that rage and out the other side.
Eva Kor chose to forgive—though not absolve—those who had perpetrated the monstrous crimes against her, her family and the other victims of the Nazi Holocaust.
Graphic artist Joe Lee tells Eva's story in his heartbreaking biography, Forgiveness: The Story of Eva Kor. The illustrations are absolutely stunning. And so is the narrative that Lee spins, as he takes the reader through Eva's childhood, her trauma in Auschwitz, her resettlement in the US in Indiana, her fight to get the story of the Mengele twins recognized, and, finally, her choice to forgive.
Valerie Martin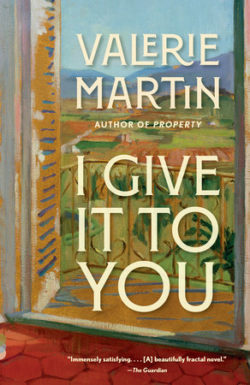 Valerie Martin has written a number of highly acclaimed novels, among them Mary Reilly and Property. Her newest, I Give It to You, has received rave reviews. It's a multi-layered story of family, war, art, and betrayal set around an ancient, ancestral home in the Tuscan countryside.
When Jan Vidor, an American writer and academic, rents an apartment in a Tuscan villa for the summer, she plans to spend her break working on a novel about Mussolini.
Instead, she finds herself captivated by her aristocratic landlady, the elegant, acerbic Beatrice Salviati whose family has owned Villa Chiara for generations. Jan is intrigued by Beatrice's stories of World War II, particularly by the tragic fate of her uncle Sandro, who was mysteriously murdered in the driveway of the villa at the conclusion of the war.
Day by day, Beatrice makes Jan privy to her family history. But when Jan finds she can't resist writing Beatrice's story, it causes complications in their friendship.
The Guardian called I Give It To You "a novel of philosophical and creative inquiry, cleverly plotted and packed with great characters."
Valerie Martin is the author of twelve novels, four collections of short fiction, and a biography of Saint Francis of Assisi, Salvation.