Podcast: Play in new window | Download
Subscribe: Apple Podcasts | RSS
We talk with journalist Nina Burleigh about Trump's failure on Covid and what that says about our public health system—and capitalism. Her book is Virus: Vaccinations, the CDC, and The Hijacking Of America's Response To The Pandemic.
Then, we shift gears to consider a remarkable debut novel by Celia Jeffries, Blue Desert. It's about freedom and limits, secrets and what happens when a young British woman falls in love with the chieftain of a Tuareg tribe in Morocco in the early years of the 20th century.
Writer's Voice — in depth conversation with writers of all genres, on the air since 2004. Rate us on your podcast app!
Nina Burleigh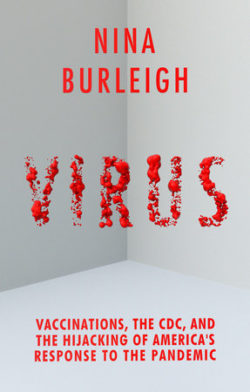 As the US begins to see yet another surge in COVID19 cases, driven by the Delta variant and vaccine resistance promoted by GOP and Fox network lies and misinformation on social media, it's useful to consider how exactly we got here.
Nina Burleigh's book Virus is a penetrating analysis of just that. She reveals how the confluence of key government missteps, behind-the-scenes corruption, staggering dismissal of decades of scientific progress, conspiracy theories, and other malfeasance were behind the hundreds of thousands of unnecessary deaths.
It's a terrific book, trenchant, absorbing—and necessary.
Nina Burleigh is the author of seven books, including The Trump Women and Unholy Business. Her writing has appeared in numerous publications including Rolling Stone, The New Yorker, Time, New York, The New York Times and Slate.
Read Nina Burleigh's articles in the Nation based on her reporting for VIRUS
New on Writer's Voice! Tell us what your favorite reading is right now.
Email us at writersvoice[at]icloud[dot]com or leave us a voicemail at (408) 372-6220‬
Celia Jeffries
Celia Jeffries' debut novel Blue Desert is a beauty. It tells the story of Alice George, a headstrong young British woman, and her life among the Tuareg, a tribe of nomadic warriors. A matrilineal society in which the men are veiled and the women hold property, it was a world well suited to eighteen-year-old Alice, who discovers a life she could never live in England.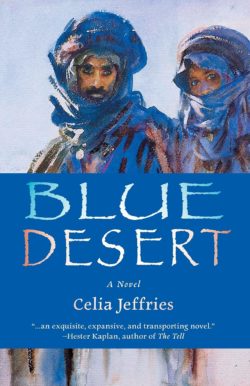 In 1917, Alice returns home to a world completely alien to the one she had left seven years before. Her silence about her life in the Sahara is finally broken five decades later when she receives a telegram announcing Abu has died in the desert. "Who is Abu?" her husband asks. "My lover," she replies.
The novel is a love story. But that vehicle becomes a way to explore what true freedom is, how culture can constrain our most authentic needs, and the connections that endure through decades of separation.
Moving back and forth between two periods fifty years apart, Blue Desert is contemplative and gripping and, above all, profoundly humane.
Celia Jeffries is a writer, editor, and teacher whose work has appeared in numerous newspapers and literary magazines, as well as the anthology Beyond the Yellow Wallpaper. She lives in western Massachusetts. Blue Desert is her first novel.
Listen to Celia Jeffries read an excerpt from Blue Desert