Podcast: Play in new window | Download
Subscribe: Apple Podcasts | RSS
We spend most of the hour talking with Simon Winchester about his new book Land: How the Hunger for Ownership Shaped the Modern World.
Then we revisit part of our 2020 interview with one of the people Winchester talks about in Land, Isabella Tree. She tells us of the land she's re-wilded. Her book is Wilding: the Return of Nature to a British Farm.
Writer's Voice — in depth conversation with writers of all genres, on the air since 2004. Rate us on iTunes or whatever podcast app you use!
Simon Winchester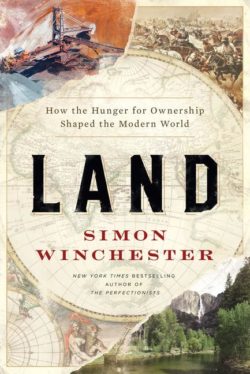 Land—whether meadow or mountainside, parkland or pasture, suburb or city—is central to our existence. It quite literally underlies and underpins everything.
In his new book Land, Simon Winchester examines what we human beings are doing—and have done—with the billions of acres that together make up the solid surface of our planet.
He looks at how we acquire land, how we steward it, how and why we fight over it, and finally, how we can come to share it.
Simon Winchester is the author of numerous books. Among them are the best-selling The Professor and The Madman, Pacific and A Crack In The Edge Of The World. We've spoken with Winchester about the last two previously on Writer's Voice.
Hear or Read an excerpt from Land 
Isabella Tree
We air an excerpt from our 2020 interview with Isabella Tree, author of Wilding — the Return of Nature to a British Farm.
Listen to the entire interview with Isabella Tree
Next week
For Earth Day, we talk with novelist Eliot Peper about his climate crisis thriller, Veil. Don't miss it!