Podcast: Play in new window | Download
Subscribe: Apple Podcasts | RSS
We talk with Suketu Mehta about his powerful book, This Land Is Our Land: An Immigrant Manifesto.
Then, we speak with researcher Lew Daly about his report on some of the false solutions being proposed in the Green energy space.
Writer's Voice — in depth conversation with writers of all genres, on the air since 2004. Rate us on iTunes or whatever podcast app you use!
Suketu Mehta
There are few subjects in American life that prompt more discussion and controversy than immigration. But do we really understand it? In This Land Is Our Land, the renowned author Suketu Mehta attacks the issue head-on.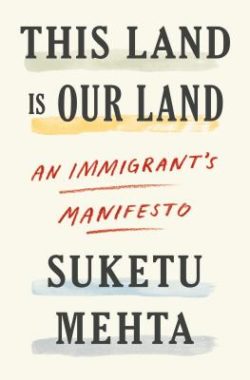 Drawing on his own experience as an Indian-born teenager growing up in New York City and on years of reporting around the world, Mehta subjects the worldwide anti-immigrant backlash to withering scrutiny. As he explains, the West is being destroyed not by immigrants but by the fear of immigrants.
Mehta juxtaposes the phony narratives of rightwing ideologues with the ordinary heroism of laborers, nannies, and others, from Dubai to Queens, and explains why more people are on the move today than ever before.
He also demonstrates that immigrants bring great benefits, enabling countries and communities to flourish. Impassioned, rigorous, and richly stocked with memorable stories and characters, This Land Is Our Land is a timely and necessary intervention in our understanding of this critical issue.
Suketu Mehta is the author of Maximum City: Bombay Lost and Found, which was a finalist for the Pulitzer Prize. His work has been published in The New Yorker, The New York Times Magazine, National Geographic and elsewhere. He is an associate professor of journalism at New York University.
Read an excerpt from This Land Is Our Land
Lew Daly
As you've heard time and again on this program, we need to transition to a green energy economy as fast as possible in order to keep the climate within habitable limits for most living things on the planet.
As the transition gets underway, however, there are voices touting solutions that Lew Daly says are masquerading as green but are anything but.
He wrote the report False Solutions for NYRenews. That's the coalition of over 200 grassroots, environmental and labor groups instrumental in getting NYS to pass its landmark climate legislation at the end of 2019.
But as the planning to implement that law takes place, fossil fuel interests are pushing forms of energy that Daly says are "green" in name only, like biofuels and "renewable" natural gas.