Podcast: Play in new window | Download
Subscribe: Apple Podcasts | RSS
We spend the hour talking with Tamara Payne about her late father Les Payne's acclaimed biography of Malcolm X, The Dead Are Arising. It just won the National Book Award.
Writer's Voice — in depth conversation with writers of all genres, on the air since 2004.
Rate us on your favorite podcast platform! It really helps others find our show. And like us on Facebook at Writers Voice Radio or find us on Twitter @WritersVoice.
The Dead Are Arising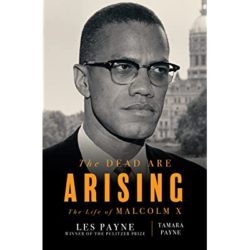 Books and movies about Malcolm X abound. There's the Autobiography of Malcolm X, of course, co-written with Alex Haley—and countless books followed. Denzel Washington played Malcolm X in Spike Lee's movie about him and there was also a PBS documentary, Malcolm X: Make It Plain, among other films.
But Pulitzer Prize winning journalist Les Payne's new biography of Malcolm X, The Dead Are Arising, goes where none have gone before.
With his daughter Tamara, who was his principal researcher and wrote a terrific introduction to the book, Les Payne delved deeply into Malcolm's background and upbringing. He interviewed his family and many other sources who have never been tapped before. And the depth of research extended to cover the rest of Malcolm's life—including a never-before detailed description of Malcolm's meeting with the KKK.
The Dead Are Arising not only gives a wealth of detail but also historical context to weave a rich tapestry of the life and times of one of the most important and influential figures in American history.
Les Payne died in 2018. His daughter Tamara Payne brought his magnum opus to publication.
Read An Excerpt from THE DEAD ARE ARISING