Podcast: Play in new window | Download
Subscribe: Apple Podcasts | RSS
We talk with Les Leopold about his Uncle Walter's remarkable diary of life as Jew in Nazi Germany, Defiant German—Defiant Jew: A Holocaust Memoir from Inside the Third Reich. Les Leopold had the diary translated and has added much context and commentary to the book.
Then, we talk with acclaimed crime novelist Anthony Horowitz about his newest murder mystery confection, Moonflower Murders. It's the second in the Susan Ryeland series, following Magpie Murders.
Writer's Voice — in depth conversation with writers of all genres, on the air since 2004. Rate us on your favorite podcast platform! It really helps others find our show. And like us on Facebook at Writers Voice Radio or find us on twitter @WritersVoice.
Les Leopold
Eighty-two years ago this week, the end stage of Germany's pre-war Jewish community began. On the night of November 10-11, The Nazis carried out a pogrom that ransacked and destroyed thousands of German homes, synagogues and shops.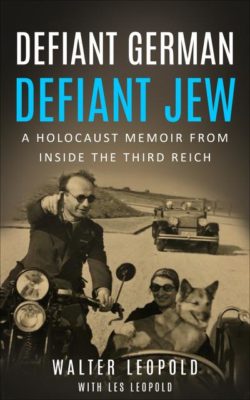 It was called Kristallnacht ("Crystal Night") after the shards of broken glass that littered the streets. 30,000 Jewish men were taken away to concentration camps, among them my guest Les Leopold's uncle Walter, who spent several months in Buchenwald before being miraculously released.
Dr. Walter Leopold was a self-declared "revolutionary Jew" who kept a remarkable diary all through the years of living first in hiding and then under an assumed identity until the end of the War. Against all odds, he, his wife and his young daughter managed to survive as he fought in any way he could against Fascism.
He died when his American nephew Les Leopold was only three. But like his uncle Walter, Les Leopold is a fighter against injustice. Writers Voice listeners know him from the multiple times we've interviewed him about his books on income inequality, including The Looting of America and Runaway Inequality, as well as his terrific biography of labor leader Tony Mazzocchi.
Les Leopold turned the book Runaway Inequality into an ongoing project that trains tens of thousands of trade unionists about predatory capitalism and how to fight it. When he discovered his uncle's diary, he was struck by its relevance to today. He knew he had to bring it to American readers. Hence the memoir, Defiant German—Defiant Jew.
Anthony Horowitz.

Anthony Horowitz is one of the world's bestselling authors of crime fiction. He's been a guest on Writer's Voice multiple times.
The byzantine twists and turns of his plots  provide much grist for guessing and the myriad references hidden in the text to other masters of the genre, like Agatha Christie and Arthur Conan Doyle, are always a delight to read.
We spoke with him in 2017 about The Magpie Murders, which featured literary agent Susan Ryeland as the sleuth who finds her clues in a novel within the novel, written by her client Alan Conway and featuring another sleuth, Atticus Pünd.
Now, Horowitz is back with a sequel, The Moonflower Murders and it's just as delightful a read as the first.