Podcast: Play in new window | Download
Subscribe: Apple Podcasts | RSS
We talk with Pawan Dhingra about his book Hyper Education: Why Good Schools, Good Grades, and Good Behavior Are Not Enough. It's an up-close look at the education arms race of after-school learning and academic competitions.
Then, a remarkable journey to racial truth and reconciliation undertaken by two Americans—one black and one white. We talk with J. Chester Johnson about his book, Damaged Heritage: The Elaine Race Massacre and A Story of Reconciliation.
Writer's Voice — in depth progressive conversation with writers of all genres. On the air since 2004. Rate us on iTunes or whatever podcast app you use!
Like us on Facebook at Writers Voice with Francesca Rheannon or find us on twitter @WritersVoice.
Pawan Dhingra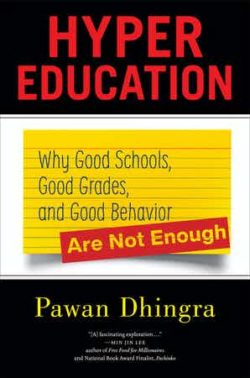 Beyond soccer leagues, music camps, and drama lessons, today's youth are in an education arms race that begins in elementary school.
In his book Hyper Education, Pawan Dhingra uncovers the growing world of high-achievement education and the after-school learning centers, spelling bees, and math competitions that it has spawned.
Dhingra shows why good schools, good grades, and good behavior are seen as not enough for high-achieving students and their parents and why the education arms race is likely to continue to expand — and the high cost to kids, families and public education that means.
Pawan Dhingra is Professor of American Studies at Amherst College. He is the author of many books and His work has been featured in the Boston Globe, the Washington Post, The New York Times, and elsewhere.
J. Chester Johnson

The 1919 Elaine Race Massacre saw between a hundred and two hundred Black Americans murdered. It was possibly the worst such massacre in our nation's history.
But history almost forgot it. For J. Chester Johnson, that history was also family history — something he discovered to his shock in 2008. He learned that his beloved grandfather, who raised him, had been a perpetrator in that massacre.
As Johnson began researching the story more deeply, he met Sheila Walker, a descendant of Black victims of the Massacre. Together, she and Johnson committed themselves to a journey of racial reconciliation and an abiding friendship ensued.
Johnson tells the story of the massacre and the journey of truth and reconciliation its descendants undertook in his book Damaged Heritage.
J. Chester Johnson is a acclaimed poet, essayist, and translator. He also served as Deputy Assistant Secretary of the U. S. Treasury Department under Jimmy Carter.