Podcast: Play in new window | Download
Subscribe: Apple Podcasts | RSS
We talk with Stephanie Kelton about her book, The Deficit Myth: Modern Monetary Theory and the Birth of the People's Economy.
We also have some summer reading picks that you can enjoy at the beach or poolside. And Francesca reads some poems by western Massachusetts poet Meg Fisher.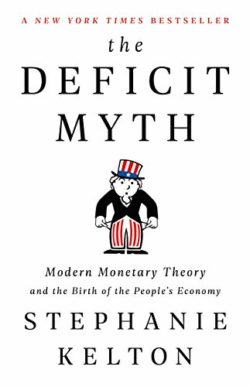 We've all heard it a million times: we can't have universal affordable health care because, "how are you gonna pay for that?" We can't have free public college because "how are you gonna pay for that?" We can't increase Social Security because "how are you gonna pay for that?"
But when the pandemic happened and the Congress passed a $2 trillion budget, we didn't hear those words. Nor did we hear them when Wall Street imploded in 2008 and the banks got a trillion dollar bailout. Nor do we ever hear those words when every single year, the Congress passes a record-breaking military budget—$780 billion this year.
Ever since Ronald Reagan, we've been told by Democrats and Republicans that the richest society in the world can't afford to take care of its citizens—that to do so would burden our descendants with crushing federal debt. But in the middle of a pandemic where the US is throwing money around like candy—mostly to those who need it least—that excuse is wearing thin.
Stephanie Kelton's book The Deficit Myth exposes the lie behind the "we can't pay for it" mantra. She writes,
"Deficits can be used for good or evil. They can enrich a small segment of the population, driving income and wealth inequality to new heights, while leaving millions behind. They can fund unjust wars that destabilize the world and cost millions their lives. Or they can be used to sustain life and build a more just economy that works for the many and not just the few."
Stephanie Kelton is a professor of economics and public policy at Stony Brook University. She is a leading expert on Modern Monetary Theory and a former Chief Economist on the U.S. Senate Budget Committee (Democratic staff). She was named by POLITICO as one of the 50 people most influencing the policy debate in America.
Summer Reading Picks
If you want some smartly written distraction fiction, we've got two books to recommend:
In the crime fiction field is The Distant Dead by Heather Young. It's about the murder of a middle school teacher in a small Western town whose body is discovered by his favorite pupil. The characters are flawlessly drawn; the writing is taut and descriptive; the plot is satisfyingly twisty and compelling. It's just as good as Heather Young's first novel, The Lost Girls. Read them both for a treat.
Then there's Dean Koontz' penultimate new book, Devoted. It features a super-intelligent Golden Retriever, a plot to transform humanity that goes very very wrong and a heroic young boy on the autism spectrum. Devoted is a really fun read with some wonderful writing–and a morality fable that plumbs the depths of human depravity to remind us of the heights of the human spirit.
Rope of Sorrow
by Meg Fisher
I wring the water
lukewarm
from the washcloths
so often that
water, and bucket, and cloth and hands
become one rope of sorrow
tying me to task
while all around me just out of reach
spins the sun-filled birch light, sweet, sweet, sweet.
And I see in that moment that
I give my whole attention
to sorrow, not to joy.
What is this doting that I do on sorrow
by life's open window?
Come.
What's here is here, and given.
Is what is.
How strong my hands are in this service!
How alive my heart!