Podcast: Play in new window | Download
Subscribe: Apple Podcasts | RSS
We talk with Dr. Abdul-El Sayed, former Michigan gubernatorial candidate and health director of Detroit's public health department about his new book, Healing Politics: A Doctor's Journey Into the Heart of Our Political Epidemic.
Then, a debut novel explores the power dynamics inside a county jail. We talk with David Moloney about his book, Barker House.
Writer's Voice — in depth conversation with writers of all genres. On the air since 2004. And if you are listening to our podcast, give us some love on iTunes or whatever podcast app you use.
Like us on Facebook at Writers Voice with Francesca Rheannon or find us on twitter @WritersVoice.
Abdul El-Sayed
Americans everywhere are in the streets protesting police violence against black people, saying loud and clear that Black Lives Matter.
But while the killing of George Floyd was the spark — or maybe the last straw — the protests are about much more: the violence of health disparities against people of color the Covid pandemic has revealed, the violence of poorly funded schools, the violence of poisoned neighborhoods…and the list goes on.
All of these means of social violence hit black and brown communities the hardest. But they have been devastating poor and working class white Americans, as well. That may be why many whites are beginning to understand that they, too, have a stake in fighting systemic racism. That's because of what Abdul El-Sayed calls in Healing Politics an "epidemic of insecurity" affecting broad swathes of the American population.
An epidemiologist, El-Sayed decided to run for governor of Michigan in 2018 because he saw so clearly how our political and economic system is rigged against the communities he had been tasked to protect as director of Detroit's public health department.
He lost that fight, but won a very respectable 400,000 votes, despite being a first-time candidate with a politically difficult name. He was endorsed by Bernie Sanders and Alexandria Ocasio Cortez.
Healing Politics combines memoir, science, and public policy to diagnose the challenges facing America and lay out a way forward. It's a crucial text for those who want to see a better America for all.
Read An Excerpt      Read More from Abdul El Sayed
David Moloney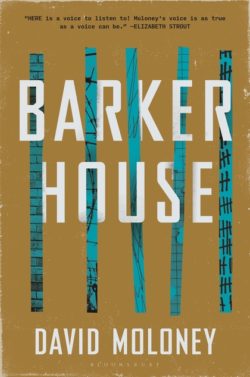 David Moloney was an aspiring teacher when the Great Recession hit. In his early twenties at the time, the only secure job he could find was as a corrections officer in a county jail in New Hampshire.
After four years, he'd had it: the ugly power dynamics between guards and inmates; the stress; the way the jail culture promotes dehumanization.
Now he's turned his experiences into a book of linked stories following nine correctional officers over the course of one year on the job.
Barker House is a fascinating and detailed look at an environment that few on the outside know or understand. We talk about that and also Moloney's take on what needs to change in America's criminal justice system.
David Moloney teaches writing at the University of Massachusetts-Lowell. Barker House is his first book.
Next Week on Writer's Voice

Join us for a terrific conversation with Elizabeth Wetmore about her novel Valentine. It's is a haunting exploration of the intersections of violence and race, class and gender in western Texas during the 1970s oil boom.