Podcast: Play in new window | Download
Subscribe: Apple Podcasts | RSS
We talk with Judy Foreman about her book Exercise is Medicine: How Physical Activity Boosts Health and Slows Aging. (Oxford University Press.)
Then, we talk with Michael Zapata about his acclaimed novel, The Lost Book of Adana Moreau (Hanover Square Press).
Writer's Voice — in depth progressive conversation with writers of all genres. On the air since 2004. Rate us on iTunes!
Judy Foreman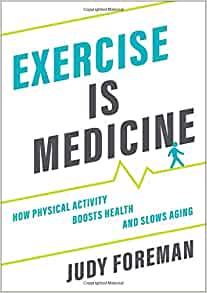 Death is, at least so far, inevitable. But probably most of us fear the process of getting there worse than our actual end. It's the deterioration, both mental and physical, we fear.
But, according to science journalist Judy Foreman, we have a certain amount of choice over that. In her fascinating new book Exercise is Medicine, Foreman points out that if we stay active throughout our lifespan, we can actually slow and even reverse our biological age, almost like putting our bodies back in time.
Foreman delves into the science behind why exercise is so good for us and why different kinds of exercise, like aerobics and resistance, are good for different reasons. She also tells us how we can tweak our routines to exercise more effectively in less time.
Judy Foreman is the author of "A Nation in Pain", which we spoke with her about in 2014, "The Global Pain Crisis", and "Exercise is Medicine." She was a staff writer and health columnist at The Boston Globe for many years.
Michael Zapata
Michael Zapata's debut novel The Lost Book of Adana Moreau is the mesmerizing story of a Latin American science fiction writer and the lives her lost manuscript unites decades later in post-Katrina New Orleans.
In 1929 in New Orleans, a Dominican immigrant named Adana Moreau writes a science fiction novel. The novel earns rave reviews, and Adana begins a sequel. Then she falls gravely ill. Just before she dies, she destroys the only copy of the manuscript.
Decades later in Chicago, Saul Drower is cleaning out his dead grandfather's home when he discovers a mysterious manuscript written by none other than Adana Moreau. He tracks down an address for Adana's son in New Orleans, and travels there just as Hurricane Katrina arrives.
The result is a brilliantly layered masterpiece–an ode to home, storytelling and the possibility of parallel worlds.
Michael Zapata is a founding editor of the award-winning MAKE Literary Magazine. The recipient of several literary awards, he has also been a teacher in Chicago, where he taught literature and writing in high schools for drop out students.