Podcast: Play in new window | Download
Subscribe: Apple Podcasts | RSS
We spend the hour with Virginia Eubanks talking about her award-winning book Automating Inequality: How High-Tech Tools Profile, Police, and Punish the Poor. It's about how the use of computerized algorithms are replacing human beings in deciding in who is or is not "worthy" of getting help — and destroying lives in the process.
Virginia Eubanks
The poor have been stigmatized throughout our history as a nation. From the poorhouses of earlier centuries to Ronald Reagan's trope of the "welfare queen" to Bill Clinton's draconian promise to "end to welfare as we know it," the poor have been blamed for their lot as an excuse to deny them resources.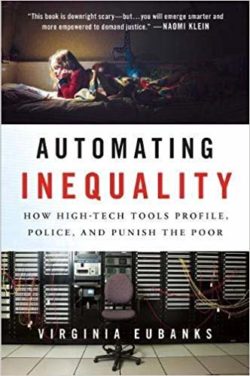 But the ushering in of the digital age has made this far, far worse — and it's presaged automated methods of digital control that are beginning to be used on all of us.
In her book, Automating Inequality: How High-Tech Tools Profile, Police, and Punish the Poor, Virginia Eubanks systematically investigates the impacts of data mining, policy algorithms, and predictive risk models on poor and working-class people in America.
The book is full of heart-wrenching and eye-opening stories, from a woman in Indiana whose benefits are literally cut off as she lays dying to a family in Pennsylvania in daily fear of losing their daughter because they fit a certain statistical profile.
Automating Inequality first came out in 2018 and was re-issued in a new paperback edition in August 2019. It won the 2019 Lillian Smith Book Award, 2018 McGannon Center Book Prize, and was shortlisted for the Goddard Riverside Stephan Russo Book Prize for Social Justice. Virginia Eubanks teaches political science at SUNY-Albany.
The Guardian published a series of articles based in part on Eubanks' work on October 15, 2019.