Podcast: Play in new window | Download
Subscribe: Apple Podcasts | RSS
We talk with Ryan Grim, correspondent for the Intercept about his fascinating new book, We've Got People: From Jesse Jackson to AOC, the End of Big Money and the Rise of a Movement.
Then we check in with Jeet Heer about his take on the state of the Democratic Party after the last debate. His editorial in the Nation is "On a Crowded Stage, Democrats Divide Into Two Tribes."
Ryan Grim
Does a moderate candidate really have the best chance of capturing the presidency for the Democratic Party?
On Saturday October 19, 26,000 people plus another estimated 5,000 in the overflow crowd came to the giant Bernie Sanders rally at Queensbridge Park in New York. It was the largest political rally so far of the 2020 Democratic presidential campaign. (The runner up was the giant Elizabeth Warren rally earlier this year in Manhattan, some 20,000.) Clearly, there's big support in New York City for progressive change.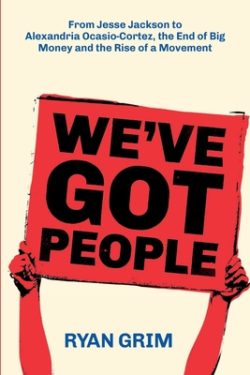 What about the rest of the country? Well, Sanders and Warren, neither of whom accept corporate PAC money, are leading in small dollar donations, raising more money overall than the other candidates.
And large majorities of all voters support signature progressive policies like free college tuition, canceling student debt, Medicare for All, and a $15 minimum wage. Ditto for the Green New Deal, introduced into Congress by Alexandria Ocasio-Cortez and Ed Markey. AOC may seem like she came from nowhere, but the movement that propelled her to office – and to global political stardom – has been building for 30 years.
Ryan Grim's book We've Got People is the story of that movement, which first exploded into public view with the largely forgotten presidential run of the Rev. Jesse Jackson. The book offers new insight into how that movement has changed the landscape of what is politically possible–and where it's headed.
Ryan Grim is former Washington bureau chief for HuffPost and currently for The Intercept. He's a political commentator for The Young Turks and has written for Rolling Stone, The Washington Post, and Politico.
Jeet Heer
If you've been watching the Democratic Debates for the 2020 presidential primary season, it has become obvious that the divide between the left and the moderates now defines the field.
That's something Francesca spoke about with Nation editor Jeet Heer last week, a few days after the fourth Democratic Debate. His editorial for the October 14 edition of the Nation was "On a Crowded Stage, Democrats Divide Into Two Tribes."
Next week on Writers Voice
We talk with NPR correspondent Aarti Shahani about her powerful memoir Here We Are. It's about growing up as an immigrant in America.
We also talk with Amitav Ghosh about his compelling novel about climate change, Gun Island.