Podcast: Play in new window | Download
Subscribe: Apple Podcasts | RSS
We talk with David Bollier about the new book he co-authored with Silke Helfrich, Free, Fair and Alive: The Insurgent Power of the Commons.
But first, we tackle the toxic state public discourse and how to clean it up. We talk with James Hoggan about the new edition of his book, I'm Right and You're An Idiot.
Jim Hoggan
Has the toxic state of political conversation gotten you down? Are you at a loss to talk with your neighbor, friend or family member who holds political views diametrically opposed to your own? Well, help is on the way!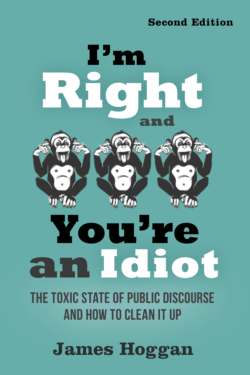 In the second (and post-Trump election) edition of his book I'm Right and You're An Idiot, James Hoggan shows how you can become a more effective and powerful communicator in today's highly polarized and polluted public square.
The book explores why facts alone fail to convince and why dialogue, empathy, and reframing arguments in a pluralistic way are better at moving understanding forward and changing minds.
Jim Hoggan is a public relations expert and the founder of the award-winning blog DeSmog Blog, which debunks climate skepticism and denial. We last spoke with him in 2009 about his book Climate Cover-Up: The Crusade to Deny Global Warming.
Read An Excerpt from I'm Right And You're An Idiot
David Bollier
David Bollier has been a guest on Writers Voice quite a few times over the years. We first talked with him about his book about the corporate misuse of copyright law, Brand Name Bullies.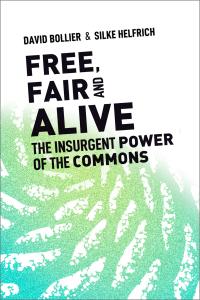 But over the last ten or so years, he's been working on a world-reshaping project, helping to create a global community of the Commons, based in "a politics of belonging, an economics of sufficiency and a culture of sharing," as he writes.
Bollier and his collaborator, German scholar and activist, Silke Helfrich, co-wrote the anthologies Wealth of the Commons and Patterns of Commoning. Those books explored the myriad projects throughout the world where people have come together — online, in urban and rural communities, in fisheries and forests — to build collective wealth.
Now, Bollier and Helfrich have come out with a new book, Free, Fair and Alive, that develops a comprehensive vision of the commons, with principles and examples to help put it into practice.
It's really about a shift to a whole new world view (new, at least to Western capitalist thinking. It's been part of the indigenous world view and indeed human history for millennia.) But in Free, Fair and Alive, Bollier and Helfrich show how to get to a better world that is possible from where we are today.