Podcast: Play in new window | Download
Subscribe: Apple Podcasts | RSS
We spend the hour with science fiction novelist, blogger and technology activist, Cory Doctorow. First, we talk with him about his terrific new book, Radicalized. It brings together four speculative fiction novellas connected by social, technological, and economic visions of today — and what America could be in the very near future.
Then we re-air an edited version of our 2010 interview with Doctorow about his novel, Makers, which is about a movement of open source tech creators and their battle with the Disney Corporation.
Writer's Voice — in depth conversation with writers of all genres, on the air since 2004. Rate us on iTunes or wherever you get your podcasts!
RADICALIZED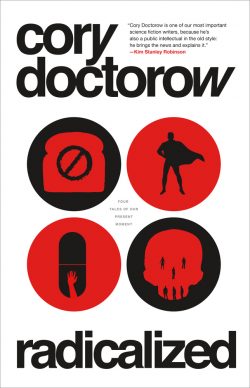 Cory Doctorow is one of the globe's leading thinkers about the internet and the digital commons.
He is editor of the blog Craphound, co-editor of the blog Boing-Boing, has worked with the Electronic Frontier Foundation, and also finds time to write speculative fiction that is both entertaining and thought-provoking.
Doctorow's latest fiction foray is Radicalized, a collection of four novellas set in the near future that aims a sharply-honed lance of satire at today's political and social inequalities.
It creates an all-too-real vision of the dystopian possibilities we are headed for — but it's also a celebration of the human impulse to break the chains of corporate control.
We last spoke to Cory Doctorow about his novel Walkaway.
Read an excerpt from Radicalized
MAKERS
During our first segment today, talking with science fiction novelist, blogger and technology activist Cory Doctorow about his book Radicalized, we touched on the issue of digital rights management or copyright, an issue Doctorow has done extensive work on.
He's been an opponent of digital rights management and an source software activist. In 2010, we interviewed him about his novel Makers, which takes up these themes.
Next week on Writers Voice
We talk with Paul Tough about his important new book, The Years That Matter Most: How College Makes or Breaks Us. It's an examination of how the higher education system is rigged to preserve income inequality while selling the myth of meritocracy to all. It also explores what some colleges and universities are doing to level the playing field of access to higher education.