Podcast: Play in new window | Download
Subscribe: Apple Podcasts | RSS
We talk with Christina Proenza-Coles about her groundbreaking new history, American Founders: How People of African Descent Established Freedom in the New World.
Then, we talk with Jamaican-English author Sara Collins about her breakout debut novel, The Confessions of Frannie Langton. It's an historical thriller about a former slave who is accused of murdering her employer and his wife in Georgian London.
Writer's Voice — in depth conversation with writers of all genres, on the air since 2004. Rate us on iTunes or wherever you get your podcasts!
Christina Proenza-Coles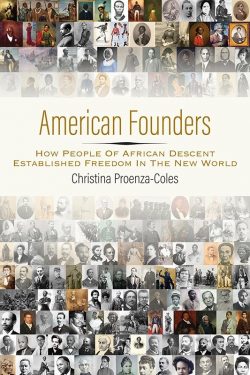 This week, we celebrate Juneteenth, the June 19th holiday that celebrates the freeing of enslaved African Americans throughout the former Confederate States of America.
The emancipation history most Americans know is that Lincoln freed the slaves and the mostly white Abolitionist movement helped to bring that about.
What's missing from the story is the central role played by African Americans, both free and slave, in ending slavery in the US. and before that, in England and throughout the colonial world.
In fact, as Christina Proenza-Coles tells us, people of African descent were key protagonists in the story of American democracy. Her book, American Founders, chronicles how black people developed and defended New World settlements, undermined slavery, and championed freedom throughout the Americas from the 16th through the 20th century.
Christina Proenza-Coles has been an Assistant Professor of the Atlantic World/African Diaspora at Virginia State University and is a scholar of American culture and history.
See a Photo Gallery from American Founders
Sara Collins

Jamaican-born English writer Sara Collins has always loved Gothic novels — and she doesn't like the slave narratives of antislavery movement of the 19th century.
So when she set out to write a Gothic novel, Collins decided she would write a very different kind of story about slavery, one that voiced all the brilliance, humanity, rage and passion of its protagonist: accused murderer Frannie Langton.
Frannie is a servant and former slave. She is also a voracious reader of the English literary canon — and the lover of her murdered mistress. In Frannie, Collins creates a complex and compelling character with a powerful voice.
The Washington Post called The Confessions of Frannie Langton. "A startling, compelling historical debut novel… that should be on top of your vacation reading pile."
Sara Collins is of Jamaican descent. She studied law at the London School of Economics and worked as a lawyer for seventeen years before doing a Master of Studies in Creative Writing at Cambridge University, where she was the recipient of the 2015 Michael Holroyd Prize for Creative Writing. The Confessions of Frannie Langton was shortlisted for the Lucy Cavendish Prize.
Coming Attractions
Next week, best selling crime novelist Anthony Horowitz tells us about the next in his meta-mystery series featuring himself as Dr. Watson to modern day Sherlock Holmes Daniel Hawthorne. It's called The Sentence Is Death.