Podcast: Play in new window | Download
Subscribe: Apple Podcasts | RSS
Eric Blanc talks about his book, Red State Revolt: The Teachers' Strike Wave And Working-Class Politics. (Verso, April 2019). It is an indispensable window into the changing shape of the American working class and American politics.
Then, we hear our 2015 interview with Dale Russakoff about her book, The Prize. It's about the ambitious plan hatched by Cory Booker, Chris Christie and Facebook's Mark Zuckerberg to transform Newark's schools system—from the top down.
Writer's Voice — in depth conversation with writers of all genres. On the air since 2004. Rate us on iTunes or your favorite podcast app!

Eric Blanc
Thirteen months after Trump supposedly captured the allegiance of "the white working class," a strike wave rocked the US. Inspired by the wildcat victory of teachers in West Virginia, their colleagues in Oklahoma, Arizona, and across the country walked off their jobs and shut down their schools to demand better pay for educators, more funding for students, and an end to years of austerity.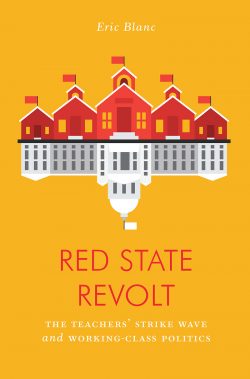 Confounding all expectations, these working-class rebellions erupted in regions with Republican electorates, weak unions, and bans on public sector strikes. By mobilizing to take their destinies into their own hands, red state school workers posed a clear alternative to politics as usual. And with similar actions now gaining steam in Los Angeles, Oakland, Denver, and Virginia, it looks like this upsurge will endure.
Eric Blanc's book Red State Revolt is a compelling analysis of the emergence and development of this historic strike wave. A former teacher himself, and an organizer, Blanc was able to embed himself into the movement to get the inside story on how the strikes evolved.
He draws out key strategic lessons for educators, labor organizers, and working class advocates across the country and shows how the stakes are high for the success of this strike movement, not only for teachers but for the majority of Americans.
Read an excerpt from Red State Revolt
Dale Russakoff
Senator Cory Booker is running for president. His path to national prominence began long before he was in the US Senate, when Booker was mayor of Newark, New Jersey. As mayor, he spearheaded efforts to expand charter schools in the city.
Back in 2015, we spoke with Dale Russakoff about her acclaimed book, The Prize. It's about the plan hatched by Cory Booker, Chris Christie and Mark Zuckerberg to reform Newark's schools from the top down—an effort that ended up with mixed results and mired in controversy. We play an extended excerpt from that interview this week.
Coming up Next Week
We talk with Grgory Pardlo about his terrific memoir, Air Traffic. It's about his father, a leading labor organizer who lost his job after the famous air traffic controllers' strike of 1981 and the impact that had on him and his family.