Podcast: Play in new window | Download
Subscribe: Apple Podcasts | RSS
Today's episode features two books that explore therapy from both sides of the couch. We talk with Lori Gottlieb about her bestselling memoir, Maybe You Should Talk to Someone: A Therapist, HER Therapist, and Our Lives Revealed.
Then, a novel about a therapist who finds herself crossing dangerous lines with a patient while struggling with her own grief: we talk with Bev Thomas about her debut novel, A Good Enough Mother. A breakout sensation in the UK, it was just published in the US.
Writer's Voice — in depth conversation with writers of all genres, on the air since 2004. Rate us on iTunes and your other podcast clients!
Lori Gottlieb
Have you ever wondered what goes on in the mind of your therapist while she or he is helping you figure out what's going on in yours? Well, New York Times best-selling author, psychotherapist, and national advice columnist Lori Gottlieb has written a new memoir that illuminates that and more.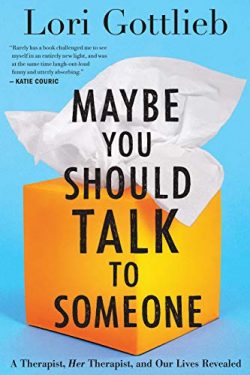 Maybe You Should Talk to Someone: A Therapist, HER Therapist, and Our Lives Revealed is a funny and thought-provoking look behind the scenes of a therapist's world—from both sides of the couch.
One day, Gottlieb is a therapist helping patients in her Los Angeles practice. The next, her own world comes crashing down when her long time boyfriend announces he's leaving. Enter Wendell, the quirky but seasoned therapist in whose of­fice she suddenly lands. As Gottlieb explores the inner chambers of her patients' lives, she finds that the questions they're struggling with are the very ones she's now bringing to her therapist.
In her memoir, Gottlieb invites us into her world as both clinician and patient, examining the truths and fictions we tell ourselves and others.
Lori Gottlieb writes The Atlantic's weekly "Dear Therapist" advice column. She also writes regularly for The New York Times, and has appeared on The Today Show, Good Morning America, CNN, other media venues. She's the author and co-author of several other books.
Read an Excerpt from Maybe You Should Talk to Someone
Bev Thomas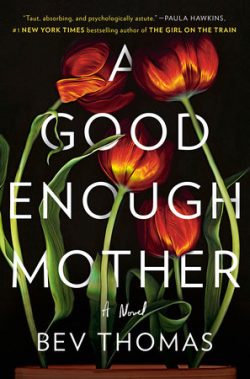 In our first segment, we spoke with Lori Gottlieb about her memoir, Maybe You Should Talk To Someone. Now, we explore some of the same terrain via fiction.
Bev Thomas's debut novel A Good Enough Mother (Pamela Dorman Books/Viking, April 2019) is a riveting page-turner that lets us inside the secret world of therapist and patient, where boundaries get crossed, and events spiral out of control.
Her protagonist Ruth Hartland is a psychotherapist with years of experience. But professional skill is no guard against private grief. The mother of grown twins, she is haunted by the fact that her difficult, fragile son Tom disappeared a year and a half earlier. She can't stop hoping she'll find him, but is living a kind of half-life, waiting for him to return.
Enter a new patient, Dan–unstable and traumatized–who looks like her missing son. She is determined to help him, but soon, her own complicated feelings about how she failed her own boy cloud her professional judgement. And therein lies a tale of boundaries crossed, leading to new losses—and, ultimately, new hope.
Bev Thomas was a clinical psychologist in the UK's National Health Service for many years. She now works as a consultant in mental health and is working on her second novel.
Read an excerpt from A Good Enough Mother