Podcast: Play in new window | Download
Subscribe: Apple Podcasts | RSS
Nana Kwame Adjei-Brenyah talks about his award-winning story collection Friday Black. Then, we talk about the art of the really really short story with Mark Russell Gelade. His short-short story collection is Navigating by Stars.
Nana Kwame Adjei-Brenyah
Nana Kwame Adjei-Brenyah's stories in his collection Friday Black are a bitingly satiric look at what it's like to be young and black in racist America. By placing ordinary characters in extraordinary situations, Adjei-Brenyah reveals the violence, injustice, and painful absurdities that black men and women contend with every day in this country.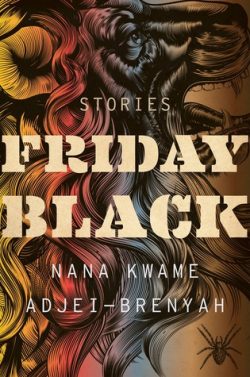 In "The Finkelstein Five," for example, Adjei-Brenyah gives the reader an unforgettable reckoning of the brutal prejudice of our justice system. In the story "Zimmer Land," violent racism is imagined as sport. And "Friday Black" and "How to Sell a Jacket as Told by Ice King" show the horrors of consumerism and the toll it takes on us all.
Adjei-Brenyah's extraordinary debut collection is a Finalist for the National Book Critics Circle's John Leonard Award for Best First Book and won the National Book Foundation's "5 Under 35″ award.
His work has appeared or is forthcoming in numerous publications, including Guernica, Compose: A Journal of Simply Good Writing, Printer's Row, Gravel, and The Breakwater Review.
Mark Russell Gelade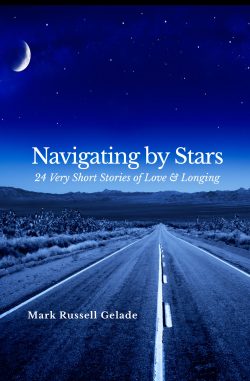 Do you think you could write an entire story in 500 words? Well, the first time poet Mark Russell Gelade tried it, he won a contest for the World's Best Short Short story. He went on to write more stories and they are all collected in his book Navigating by Stars: 24 Very Short Stories of Love & Longing.
Each story highlights a different character speaking in the first person about navigating their life or a particular circumstance within it.
Gelade describes the narrative arc of these poignant and pointed stories with a poet's sensibility. Each becomes a tile in a mosaic, where a character in one story will reappear in another to provide a different point of view.
Read Gelade's award-winning story The Bridge Is Down
Mark Russell Gelade's short fiction has appeared in Narrative Magazine; Southeast Review; Fiction Attic; and several other e-zines. His short, short story, "The Bridge is Down", won 'The World's Best Short, Short Story Contest". It's included in his collection, Navigating By Stars.