Podcast: Play in new window | Download
Subscribe: Apple Podcasts | RSS
We talk with Ken Krimstein about Hannah Arendt — her life, her work, and her importance for our time. His book is The Three Escapes of Hannah Arendt (Bloomsbury).
Then we listen back to my 2015 interview about another brilliant German Jewish woman of the 20th century, revolutionary Rosa Luxemburg.  We talk with Kate Evans about her graphic biography Red Rosa (Verso).
Ken Krimstein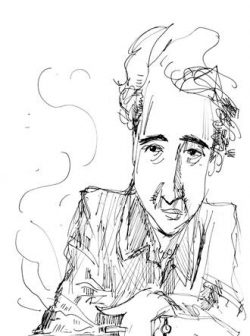 Hannah Arendt is best known for her book about the trial of Adolf Eichmann, Eichmann in Jerusalem: A Report on the Banality of Evil.
But she had a long and illustrious history as a brilliant philosopher and political thinker before then. Having fled Nazi-occupied Europe for the US, she wrote the seminal work Origins of Totalitarianism, published in 1951. She coined the word "totalitarianism" and said its foundation is built on the contempt for facts and the elevation of lies.
"The ideal subject of totalitarian rule is not the convinced Nazi or the convinced Communist, but people for whom the distinction between fact and fiction (i.e., the reality of experience) and the distinction between true and false (i.e., the standards of thought) no longer exist."
― Hannah Arendt, The Origins of Totalitarianism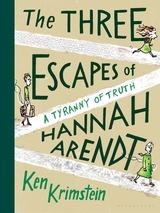 Ken Krimstein began writing his graphic biography of Arendt before Donald Trump's successful campaign for president. But as you'll hear in our interview, he feels Arendt's life is an inspiration — and her work a warning — for us today as we strive to prevent totalitarianism from taking hold here.
Krimstein's cartoons have been published in the New Yorker, Punch, The National Lampoon, and elsewhere. He teaches at De Paul University and The School of the Art Institute of Chicago.
Kate Evans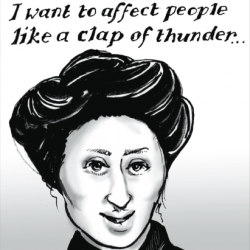 In 2015, we spoke with British cartoonist Kate Evans about her graphic biography of a great German Jewish woman thinker, the revolutionary leader, Rosa Luxemburg. Luxemburg was a giant in the history of the political left — a leader of the German socialist workers movement in the early 20th century, an opponent of the First World War, and a brilliant writer and speaker.
Kate Evans' stunning biography about Luxemburg is Red Rosa. We play extended excerpts from that 2015 interview in this episode.