Podcast: Play in new window | Download
Subscribe: Apple Podcasts | RSS
Carl Hoffman talks about his book The Last Wild Men of Borneo: A True Story of Death and Treasure. Then we talk with Jane Goodall's biographer Dale Peterson about his new book, The Ghosts of Gombe: A True Story of Love and Death in an African Wilderness.
Carl Hoffman
Two modern adventurers sought a treasure possessed by the legendary "Wild Men of Borneo." One found riches: did he help or did he exploit the tribespeople he traded with? The other vanished forever into an endless jungle. Had he shed civilization—or been murdered? Lured by these mysteries, New York Times bestselling author Carl Hoffman journeyed to find the truth.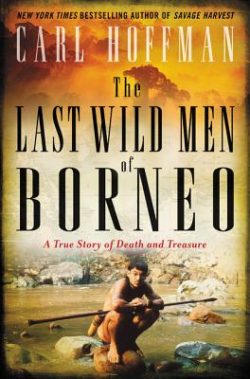 He follows the stories of Swiss adventurer Bruno Manser and American Michael Palmieri. Manser attained world renown fighting against the logging of the primeval forests of Borneo, the home of the Penang tribes.
Palmieri became one of the world's most successful tribal-art field collectors, supplying sacred works to prestigious museums and wealthy private collectors. The men illustrate two sides of the same coin, Hoffman says: how western tropes about tribal peoples shape the way the developed world deals with them.
Carl Hoffman is the author of the New York Times bestseller Savage Harvest, the story of The mysterious disappearance of Michael Rockefeller in New Guinea in 1961. He is a former contributing editor to National Geographic Traveler and Wired and has traveled on assignment to eighty countries.
Read an excerpt from The Last Wild Men of Borneo
Dale Peterson
On July 12, 1969, Ruth Davis, a young American volunteer at Dr. Jane Goodall's famous chimpanzee research center in the Gombe Stream National Park of Tanzania, East Africa, walked out of camp to follow a chimpanzee into the forest. Six days later, her body was found floating in a pool at the base of a high waterfall.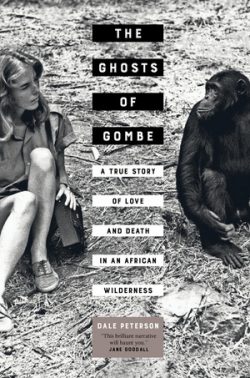 Dale Peterson wasn't there at that time, but he has been at Goodall's chimpanzee reserve often — he wrote a book with Goodall and is close friends with her and with the man who was Ruth Davis' lover.
Now, in his new book, The Ghosts of Gombe , Peterson reveals for the first time the full story of day-to-day life in Goodall's wilderness camp during the months preceding that tragic event.
Was Ruth's death an accident? Did she jump? Was she pushed? In an extended act of literary forensics,  Peterson examines how Ruth's death might have happened and explores some of the painful sequelae that haunted two of the survivors for the rest of their lives.
Dale Peterson is the author of many books about science and natural history, including Jane Goodall: The Woman Who Redefined Man and The Moral Lives of Animals.  You can listen to our interview with him about that book and his memoir  Where Have All The Animals Gone? here.