Podcast: Play in new window | Download
Subscribe: Apple Podcasts | RSS
We talk with Chloe Benjamin about her bestselling novel, The Immortalists. (Penguin Random House.) It's about four siblings who, in childhood, learn the dates of their death. Or do they? Then, could there be people among us whose lifespan is nearly a millennium? Matt Haig talks about his latest novel, How To Stop Time (Penguin Random House.) And finally, we talk with the great environmental philosopher and advocate Vandana Shiva. A new book of interviews with her, Creative Civil Disobedience, is out from Actes Sud.
We're asking you for a favor: please rate us on iTunes or whatever podcast app you use. It helps to spread the word about #WritersVoice. Thanks!
Chloe Benjamin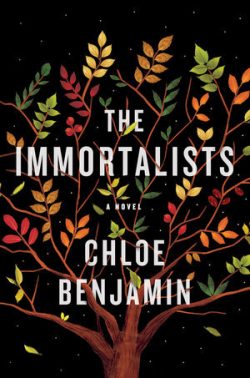 Would you want to know the day of your death? And if you did, how would it change the way you live your life? That's the question as the heart of Chloe Benjamin's terrific novel The Immortalists.
It's the family tale of four siblings who, when they are still children, visit a fortune teller who tells them the precise day they will die. Is it destiny — or suggestion? How the four come to grips with this knowledge in four different ways animates the plot of The Immortalists. It's a fascinating notion beautifully told in this story.
"The Immortalists probes the line between destiny and choice, reality and illusion…It is a deeply moving testament to the power of story, the nature of belief, and the unrelenting pull of familial bonds."
In addition to The Immortalists, Chloe Benjamin is the author of The Anatomy of Dreams.
Matt Haig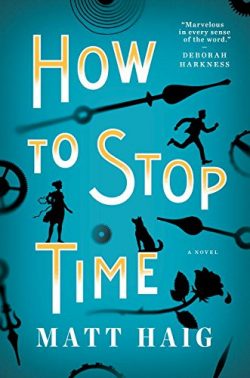 Poor Tom Hazard. He suffers from the kind of loneliness and ennui that can only come when your life expectancy is 1000 years. He's seen it all in the human condition and it ain't pretty. Moreover, some very nasty people are out to get him — into their laboratory that is, so they can extract the secret of his longevity. He's one of a very small group of people born with a mutation that makes them live a very long time.
British author Matt Haig explores the implications of such extreme longevity in his intriguing novel How To Stop Time. It's combination romance through the ages, a thriller and a contemplation of our mortality.
In addition to How To Stop Time, Matt Haig is the author of numerous books, both fiction and nonfiction, including The Humans and Reasons To Stay Alive.
Vandana Shiva
"At any  point of time, there are higher laws that act above the laws of greed, of brutality, of violence, of post-truth, and those higher laws are the creation of the universe, of the earth, Gaia and the laws of our conscience and fundamental human rights. Being human on this planet requires that we not cooperate with lower laws in order to protect the earth, in order to protect humanity." — Vandana Shiva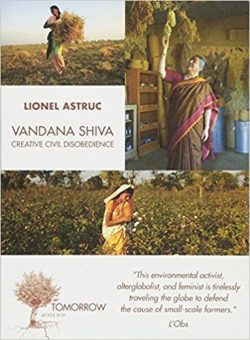 Vandana Shiva is a force of nature — and a force for nature.  Winner of the alternative Nobel Prize, the Right Livelihood Award, Shiva has been at the forefront of the food sovereignty movement, (#seedfreedom.) Her greatest fights have been against GMOs and the patenting of seeds that have bankrupted small farmers throughout the world. As Vandana Shiva tells us, "Life is not an invention."
Listen to the Entire Interview With Vandana Shiva
Shiva is the founder of Navdanya, an organization dedicated to protecting and promoting biodiversity, native seeds, organic farming and fair trade. She is the author of more than twenty books, including Earth Democracy and Soil Not Oil.
The book Creative Civil Disobedience, out from French publisher Actes Sud and newly translated into English is a series of interviews between Lionel Astruc and Vandana Shiva. It's one of a three book series published to accompany the award-winning film Tomorrow.
The International Biodiversity Congress of 2018