Podcast: Play in new window | Download
Subscribe: Apple Podcasts | RSS
Tara Whitsitt talks about her book Fermentation on Wheels. It's the story –with recipes — of how she's been spreading the word about the wonders of fermented foods by traveling around the country on a bus.
Then we re-air our interview with Katherine Harvey about her book, The Bare Bones Broth Cookbook.
Tara Whitsitt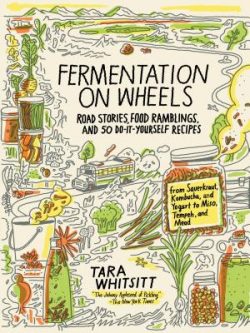 Legend says that Johnny Appleseed spread the cultivation of apples around the nation. You could say Tara Whitsitt is a modern day Johnny Appleseed, only what she's spreading is the cultivation of a whole array of fermented foods. Foods like sauerkraut and kimchee, kombucha and tibicos, miso and  vinegars — and much, much more.
She travels around the country on a converted school bus that is both dwelling and fermentation lab, library and workshop. Now she's out with a terrific book, Fermentation On Wheels: Road Stories, Food Ramblings, and 50 Do-It-Yourself Recipes from Sauerkraut, Kombucha, and Yogurt to Miso, Tempeh, and Mead. It's part memoir and part how-to book, with loads of great recipes.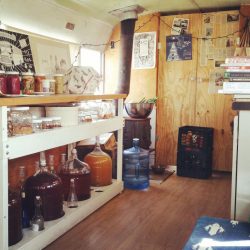 Katherine Harvey
Back in 2016, we interviewed Katherine Harvey about the book she co-wrote with her husband Ryan Harvey, The Bare Bones Broth Cookbook: 125 Gut-Friendly Recipes to Heal, Strengthen, and Nourish the Body. Here's more about the author, the book and recipes.