Podcast: Play in new window | Download
Subscribe: Apple Podcasts | RSS
Brad Gooch talks about his biography Rumi's Secret: The Life of the Sufi Poet of Love (now available in paperback from Harper Perennial.) Then, we've all heard of near-death experiences — going through a dark tunnel toward a brilliant loving light. But what if your near-death journey is to the nether regions instead? Buddhist publisher and author Samuel Bercholz tells us about his graphic memoir, A Guided Tour of Hell
Brad Gooch
"Love trumps hate." It's a message we're hearing a lot these days and not just because of the pun it contains on our new president's name. It's as if millions of us have awakened suddenly to the terrible danger of a country overtaken by hatred and we are leaping to our feet to resist that odious tide and assert our common humanity. It feels like something we need to do if we are to survive these apocalyptic times.
The Sufi Muslim poet Rumi also lived in apocalyptic times. The Mongol armies of Genghis Khan utterly laid waste to his homeland in Central Asia. He was a refugee and an immigrant. But he not only crossed geographical borders but also boundaries of conventional behavior.
In a rigidly hierarchical society, he elevated the poor and uneducated. He befriended Christians and Jews. He respected women in their own right. And, most famously, his unconventional love for another man, Shams of Tabriz, became the inspiration for his poetry and his spiritual message of love.
When Brad Gooch first started researching the life of Rumi, he never imagined just how relevant to our own time his work would become.
But as he became immersed in the project — he learned Persian and Farsi well enough to use his own translations of Rumi's poetry in the book — it became clear that the life of the 13th century poet has much to teach us moderns about how to survive turbulent times by following the path of love, not hate.
Brad Gooch is a poet, novelist, and biographer. In addition to Rumi's Secret he is the author of ten previous works, including: the memoir Smash Cut; a biography of Frank O'Hara, City Poet and Flannery: A Life of Flannery O'Connor.
Samuel Bercholz
Hell is other people, it's been said, but Samuel Bercholz says that's wrong. Rather, it's our illusion that we are separate from other people and indeed from all sentient beings that condemns us to hell. He knows. He's been there.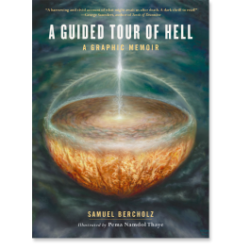 He almost died during a severe heart attack and during the 5 or so minutes that he spent straddling the border between life and death, he spent aeons in Hell with the Buddha of that region as his guide.
Perhaps he was chosen because, as a long time publisher of Buddhist books — he's the founder of Shambhala Press — his life's work has helped countless readers on their spiritual path.
What he found during his visit to Hell is recounted and portrayed in his graphic memoir, A Guided Tour of Hell. Accompanied by the stunning illustrations of Pema Namdol Thaye, A Guided Tour of Hell is a Dantesque exploration into realms of ice and fire.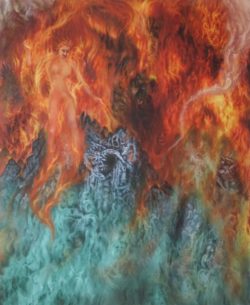 Those who find themselves there are racked by eternal torment caused not so much by their deeds when they were alive but by their thrall to the illusion of separation. Separation leads to rage, envy, judgement and hatred — emotions, according to Buddhist philosophy that form the bedrock of suffering.
Whether you view A Guided Tour of Hell as fact or metaphor, it is a cautionary tale that we all should heed for the sake of our souls, in this life or another.