Podcast: Play in new window | Download
Subscribe: Apple Podcasts | RSS
Nathan J. Robinson talks about his book Trump: Anatomy of a Monstrosity. It examines why Trump won; what the press, pundits and Democratic Party got wrong; and how they can get it right next time.
Also, Parneshia Jones reads her poem "What Would Gwendolyn Brooks Do?"
Nathan J. Robinson
The Democratic National Committee will meet February 23 – 26 to choose a new head of the DNC. Will the DNC delegates choose reformer Keith Ellison, who has pledged, as he says, to "empower the grassroots and fight for the issues that improve people's lives"?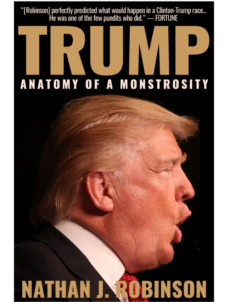 Or will they choose Tom Perez, the candidate widely seen as the candidate of the Clinton-Obama wing who is less friendly to change? (There are other candidates in the running, but Perez and Ellison are the two major contenders.)
The issue is less about the qualifications of both candidates — both are liked and respected — and more about the willingness of the Democrats to reorient the party to better reflect the interests of its base rather than those of its corporate donors.
To guide them in their decision, the Democrats would do well to read Nathan Robinson's book Trump: Anatomy of a Monstrosity. As editor in chief of the bi-monthly periodical Current Affairs,  Robinson is one of the best sources available for incisive analysis of the political landscape. And he writes really really well.
More than just a book about Trump himself,Trump: Anatomy of a Monstrosity is about the forces that led to his success as a candidate. The book takes a close look at why progressives failed to stop Trump's election and outlines how ordinary people can fight back against Trumpism and win.
Robinson argues that many critics of Trump, especially the Democrats and the press, focus on the wrong things when it comes to the President and his supporters. Instead of making fun of Trump, they should take him seriously as the consummate huckster he is.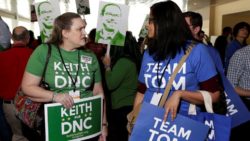 Instead of dismissing his working class supporters as "deplorables," they should focus on how he is betraying his promises to them and what Democrats will do to improve their lives and those of the rest of the 99%.
Robinson deconstructs why the inside-the-beltway echo chamber totally missed the greatest political phenomenon of our young century — the anti-establishment revolt of the masses as evidenced by the campaigns of both Bernie Sanders and Donald Trump. And he says, while it's not too late to reform the Democratic Party, it needs to be done now, before Trump's authoritarian tendencies get the upper hand over our democratic process.
Current Affairs Articles by Nathan J. Robinson
The Necessity of Credibility, If Your Party Doesn't Appeal To Young People, It Will Wither And Die, Democrats Need A Coherent and Powerful Message.
 In addition to Trump: Anatomy of a Monstrosity, Nathan Robinson is  the author of The Man Who Accidentally Wore His Cravat to a Gymnasium, a children's book about fashion and conformity.
Parneshia Jones reads her poem "What Would Gwendolyn Brooks Do?"