Podcast: Play in new window | Download
Subscribe: Apple Podcasts | RSS
Kermit Roosevelt talks about his novel Allegiance, a legal thriller that has the internal debate over the policy of internment of Japanese Americans at its core. Then we re-air our interview with Pamela Rotner Sakamoto about her book, Midnight in Broad Daylight. It's the true story of a Japanese-American family sundered by World War II on both sides of the Pacific. One side suffered internment. The other side of the family were there when the bomb was dropped on Hiroshima on August 6, 1945.
Kermit Roosevelt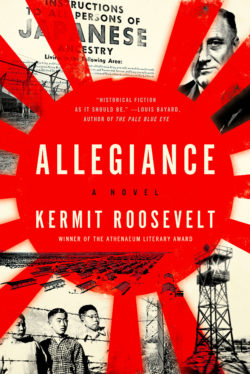 It was named Executive Order 9066 and signed by President Franklin Delano Roosevelt — the order to incarcerate thousands of Japanese American families in internment camps after war was declared on Japan in 1942. Executive Order 9066 was a gross violation of civil rights, a blot on FDR's administration and on the Supreme Court, which ruled it constitutional in 1944.
But not everyone in the government was on board. Now, a sophisticated legal thriller, Allegiance, explores the debate within the internal controversy surrounding the internment. The author, Kermit Roosevelt, is a distant relative of FDR himself and great great grandson of Teddy Roosevelt.
His protagonist is Cash Harrison, clerk to Supreme Court Justice Hugo Black. He and another clerk stumble onto a potential conspiracy aimed at manipulating the court's decisions, including those around the constitutionality of the internment camps. His investigation takes him from the office of FBI Director J. Edgar Hoover to an internment camp in California, where he directly confronts the consequences of America's wartime policies.
Kermit Roosevelt's highly successful first novel was In the Shadow of the Law. He is a law professor at the University of Pennsylvania and a former clerk for U.S. Supreme Court Justice David Souter.
Read an excerpt from Allegiance
Pamela Rotner Sakamoto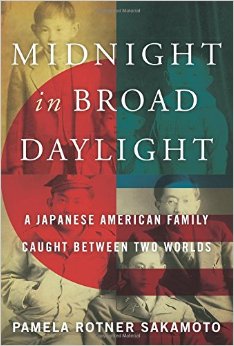 When historian Pamela Rotner Sakamoto was working on her dissertation in Japan, she stumbled on a story so remarkable, she vowed to write it when her dissertation was finished.
The story is about Harry Fukuhara, a Japanese-American decorated hero of World War II, and his family, Â who were divided by that war on both sides of the Pacific.
The family was from Hiroshima, a tragic twist of fate that resulted in Harry's older brother Victor dying from radiation sickness after the US dropped the atom bomb.
Harry was in the U.S. when Japan attacked Pearl Harbor. Like so many others, he and his sister were interned under terrible conditions in FDR's relocation camps . But then Harry became an interpreter with U.S. intelligence in the Pacific theater. After the war, he worked for the U.S. occupation forces in Japan — where he reunited with his mother and other brothers.
Sakamoto's book, Midnight in Broad Daylight, tells how the Fukuhara family came to America, what they found there, why some of them returned to their ancestral home in Japan and how the war first divided and then united them.
Midnight in Broad Daylight paints a vivd picture of what like was like in the Japanese American internment camps during WWII. Our interview first aired on Writers Voice in February of this year.