Podcast: Play in new window | Download
Subscribe: Apple Podcasts | RSS
Richard Zacks talks about his new book about Mark Twain's world lecture tour to get himself out of debt. It's called Chasing the Last Laugh: Mark Twain's Raucous and Redemptive Round-the-World Comedy Tour.
Then we re-air the 2012 interview Zacks gave Writers Voice in 2012 about his book Island of Vice. It's about Teddy Roosevelt's stint as New York City's crusading anti-vice Police Commissioner.
CHASING THE LAST LAUGH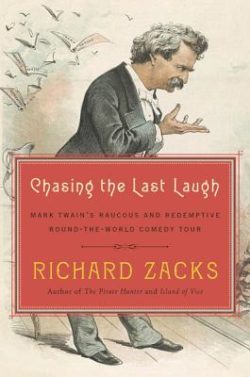 Mark Twain was the most successful author of his day — but maybe the biggest failure as an investor. And he had a lot of money to lose. Not only was he the highest paid author of his era but he was married to a very wealthy woman, the daughter of a coal baron.
Celebrity and illusion are a toxic combination; by the time Twain faced bankruptcy in the waning years of the 19th century, he owed creditors some $6 million dollars in today's terms. And his beloved wife refused to let him take bankruptcy as an out. She wanted him to preserve his honor and pay it all back.
So Twain put his celebrity, his stories and his comic genius to the task. He embarked on a round-the-world speaking tour that not only got him out of debt but that also brought him even greater renown. Richard Zacks tells the whole rollicking story in his new book Chasing the Last Laugh.
In addition to Chasing Th Last Laugh, Richard Zacks is the author of six books, including The Pirate Hunter, Island of Vice, and The Pirate Coast.
Read an excerpt from Chasing the Last Laugh 
ISLAND OF VICE (Encore)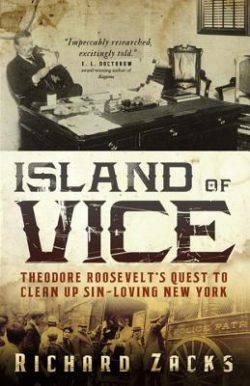 In 2012, Drew Adamek joined Writers Voice as a co-host for a year. He did some great interviews, among them this one with Richard Zacks about his book Island of Vice:Â Theodore Roosevelt's Quest to Clean Up Sin-Loving New York.
As president of the United States, Teddy Roosevelt was a force for real progressive change. He broke up the trusts, set aside millions of acres for protection and fought for a fair balance between industry and labor under his "Square Deal."
But Roosevelt wasn't always so successful. Writers Voice Associate Producer Drew Adamek interviewed Richard Zacks about a little known era in Roosevelt's life when he went up against entrenched corruption in New York City.
Zack's book, ISLAND OF VICE, chronicles Roosevelt's time as New York City Police Commissioner in 1895-'96. It follows the bureaucratic battles, lively characters and the astonishing levels of vice in 1890's New York. Roosevelt found himself pitted against the entrenched forces of Tammany Hall, beer-loving immigrants and a police force used to getting its wicked way.