Podcast: Play in new window | Download
Subscribe: Apple Podcasts | RSS
We talk with Catie Marron about her celebration of the essential urban space, the city square. Her new book is titled City Squares: Eighteen Writers on the Spirit and Significance of Squares Around the World.
Then we re-air our 2015 interview with urban philosopher David Kishik about his book, The Manhattan Project. It imagines what Walter Benjamin might have written about New York, had he survived World War II.
Catie Marron
We live in a unique period of human history and the history of urbanism: more than half of the global population now lives in cities. At the heart of many of those cities lie the public spaces we call squares — even though most are not in the shape of squares at all.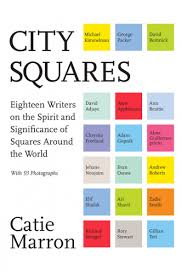 What they all share is that they are gathering places for the people: great democratic spaces where we come to be together.
On an ordinary day, that might just mean having lunch on a bench with other city residents. But on other days, it may mean coming together in common mourning, as in New York City's Union Square after 9/11. Or it may mean a place where revolutions are born — and sometimes die. Think Tahrir Square in Cairo in 2012 or Tiananmen Square in Beijing in 1989.
The  city square may take on different identities at different times in history — or even in the course of one day, perhaps being a market by day and a place for lovers to stroll by night.
In the new book she edited, City Squares, Catie Marron brings eighteen wonderful writers together to explore the spirit and significance of squares around the world.
Contributors include Adam Gopnik on the Place des Vosges, Jehani Noujaim on Tahrir Square and Rory Stuart on a square in Kabul that kept on trying not to be a square, despite his best efforts. City Squares also has essays by David Remnick and Michael Kimmelman on squares as expressions of the soul of a people.
Catie Marron's first book was about city parks. She was instrumental in the creation of one of New York's newest and most notable parks, the citizen-initiated High Line.
David Kishik (encore)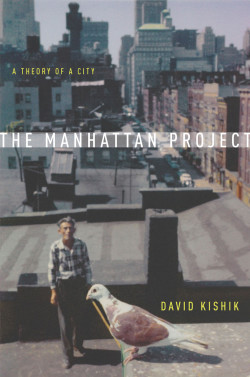 When the German philosopher Walter Benjamin committed suicide on the French-Spanish border in 1940, he left behind one of the most brilliant and idiosyncratic cultural critiques of a city the world has ever known. Unfinished at the time of his death, The Arcades Project was a massive collection of notes about Paris — filled with penetrating insights, fragmentary analyses and vivid descriptions of the city in which Benjamin spent the last 13 years of his life.
Walter Benjamin killed himself in despair on finding the Spanish border temporarily closed when he was trying to flee Nazi occupied France and make it to New York City, where he had obtained a visa to teach at the New School.
But what if he faked his suicide? What if he actually made it to New York? And what if he continued his investigations of urban philosophy by pursuing a "Manhattan Project" like The Arcades Project about Paris?
That's the thesis of David Kishik's book, The Manhattan Project: A Theory of A City. The book is a scholarly study of an imaginary text by Benjamin about New York. An urban philosopher himself, Kishik examines the city through the lens of Benjamin's sensibility — for lovers of New York, Walter Benjamin, Jane Jacobs and urban philosophy in general, it is a fascinating exploration of Manhattan as the capital city of the twentieth century.
We first aired this interview in May 2015. Listen to the extended interview here.