Podcast: Play in new window | Download
Subscribe: Apple Podcasts | RSS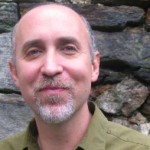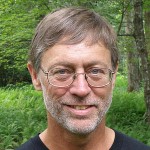 Richard Zacks discusses ISLAND OF VICE: Theodore Roosevelt's Doomed Quest to Clean Up Sin-Loving New York and Stan Cox talks about his book, LOSING OUR COOL: Uncomfortable Truths About Our Air-Conditioned World. Then Drew Adamek reviews Billy Lynn's Long Halftime Walk by Ben Fountain.
Richard Zacks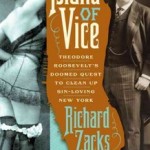 As president of the United States, Teddy Roosevelt was a force for real progressive change. He broke up the trusts, set aside millions of acres for protection and fought for a fair balance between industry and labor under his "Square Deal."
But Roosevelt wasn't always so successful. Writers Voice Associate Producer Drew Adamek, interviewed author Richard Zacks about a little known era in Roosevelt's life when he went up against entrenched corruption in New York City.
Zack's book, ISLAND OF VICE, chronicles Roosevelt's time as New York City Police Commissioner in 1895-'96. It follows the bureaucratic battles, lively characters and the astonishing levels of vice in 1890's New York. Roosevelt found himself pitted against the entrenched forces of Tammany Hall, beer-loving immigrants and a police force used to getting its wicked way.
Read An Excerpt from ISLAND OF VICE
Stan Cox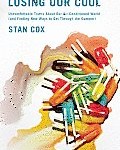 As the heat waves keep rolling over the U.S., are you cranking up the air conditioning? Well, maybe you shouldn't. That's because it's part of a vicious cycle — the greenhouse gases we're pumping into the atmosphere are heating up the planet, which leads to us to crank up the AC, which causes us to emit even more CO2 in the effort to stay cool.
Scientist and environmental journalist Stan Cox says AC is a luxury we can't afford — and often it's not even good for you. His book, LOSING OUR COOL, takes a social, political and scientific look at the conundrum we've put ourselves into with air conditioning and global warming. And he tells us about some surprising benefits of dialing down the AC or even going without, using older–and greener–methods of cooling our bodies. Although air conditioning does saves lives in heat waves, it could also be be making more sensitive to heat and increasing our rates of infection, allergies, and obesity.
Stan Cox works for and writes about the environment, currently as a senior scientist at the Land Institute in Kansas. In addition to Losing Our Cool, he's the author of Sick Planet: Corporate Food and Medicine.
Book Review by Drew Adamek: Billy Lynn's Long Halftime Walk by Ben Fountain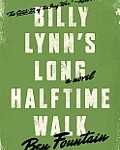 Billy Lynn's Long halftime Walk is author Ben Fountain's debut novel, after making a splash with his short story collection, Brief Encounters with Che Guevara.
Billy Lynn's Long Halftime Walk is a single day in the lives of Bravo Company, a group of young soldiers filmed by an imbedded Fox news crew in a brief, yet savage battle in Iraq.  The footage of their heroics, broadcast live and in endless loops on the cable networks, turns them into instant national heroes.
Bravo Company is pulled from the battlefield and sent on a two-week "Victory Tour", a public relations stunt by the Bush administration to drum up support for the war.
The novel takes place on one of the most media managed events of the year: the annual Thanksgiving day football game in Dallas. Over the course of the day, Bravo company gets drunk, endures encounters with well-meaning fans, tries to negotiates a movie deal and prepare to return to Iraq. Â In that same time, Billy falls in love, struggles with the spiritual consequences of the war and confronts the failings of his dysfunctional family.
William Lynn is the central protagonist, a nineteen-year-old soldier from Texas, who was put up for a medal of honor for his actions in the battle. Â  Billy is a lost lonely soul, caught up in the confusing swirl of activity since the battle. Â He is lonely, comes from a dysfunctional family and unsure about his feelings towards the war.
The one failing of this book is the flatness of the character's Bravo company encounters. While the men of bravo company are well developed characters, the people that they meet run too close to stereotype to have any depth. They are exactly what you would expect and behave exactly as one would expect.  There is no surprise in the behavior of the supporting cast within the book.   This flatness of character takes away from the challenging intellectual drama of the novel.
Where the book succeeds is in capturing the pervasive garishness and crass, self-serving  exploitation of Bush administration propaganda in the early days of the Iraq war.  Fountain pays particular attention to the aggressive macho atmosphere and language of exploitation used then.  It's easy to forget how politicized almost every event in American culture was during the Bush administration, but Fountain takes the reader back to that time with a canny ear and a deft use of language that reminds us of how totally the propaganda of war and terrorism took over our culture in the early 2000s.
There are very few surprises in the novel: the day unfolds almost exactly as one would expect. However, Fountain adds a plot twist in the latter half of the book that keeps the reader guessing at the outcome. Â He successfully creates tension and mystery: will Billy return to Iraq or will he go awol in protest?
In the end, Billy Lynn's Long Halftime Walk does what all good novels do: it creates a specific time and place.
Read An Excerpt from Billy Lynn's Long Halftime Walk