Podcast: Play in new window | Download
Subscribe: Apple Podcasts | RSS
Journalist Scott Sherman talks about the fight to save the New York Public Library. His book is Patience and Fortitude: Power, Real Estate, and the Fight to Save a Public Library (Melville House, 2015). Then, we air part of our 2014 interview with Eric Alterman about his book Inequality And One City: Bill de Blasio and the New York Experiment.Scott Sherman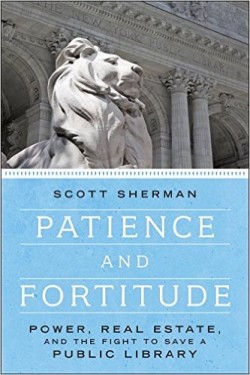 The giant stone lions that stand sentinel outside the main branch of the New York Public Library are legendary. Patience and Fortitude, as they are named, are an apt description of the years-long campaign it took to rescue the library from an ill-conceived plan to gut its storied reading room and demolish its stacks.
The plan, backed by the Bloomberg administration and pushed by some of the city's most powerful billionaires and real estate tycoons, would have cost the cash-strapped library some 500 million dollars and eviscerated its research function.
Against all odds, the fight to stop the plan was largely won by a coalition of famous writers, academics and citizens' groups, among them  the eminent architecture critic Ada Louise Huxtable. A national treasure was saved, albeit not without some grievous wounds.
Scott Sherman recounts this thrilling David and Goliath story in his book Patience and Fortitude: Power, Real Estate, and the Fight to Save a Public Library. It is at once a hugely readable history of the library's secret plans, and a stirring account of a rare triumph against the forces of money and power.
Scott Sherman is a contributing writer of the Nation magazine and also wrote for Lingua Franca. His work has appeared in Vanity Fair, the London Review of Books, and the Washington Post, among other venues.
Eric Alterman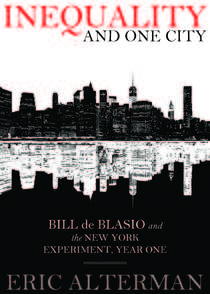 There's a fight brewing over the soul of the Democratic Party between the party's center-right establishment, typified by Hillary Clinton, and the party's progressive wing, represented by Elizabeth Warren and Bernie Sanders, both of whom have made America's high and growing economic inequality the touchstone of their work. And while the centrists have begun paying lip service to concerns about inequality lately, it's too early to tell whether their record will match their rhetoric.
One politician who ran on a progressive platform now has a little more than a year of governance under his belt — that's New York mayor, Bill de Blasio. He ran on a platform of bringing more economic and social equality to the city's residents. Has his record matched his rhetoric?
Journalist Eric Alterman's fascinating book, Inequality in One City:Bill de Blasio and the New York Experiment, Year One, looks at that record. Alterman says that to many people's surprise, including his own, de Blasio is on track to enact his platform.
We spoke to Eric Alderman in 2014. Here, we play an excerpt. Listen to the entire interview from 2014.