Podcast: Play in new window | Download
Subscribe: Apple Podcasts | RSS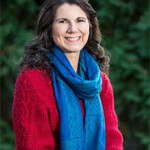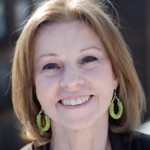 M.P. Barker talks about her new historical novel for middle readers and above, Mending Horses. It's a sequel to her wonderful first novel, A Difficult Boy. And then Ellen Bryson takes P.T. Barnum's first circus as the setting to explore the outsider in all of us. Her novel is The Transformation of Bartholomew Fortuno.
M.P. Barker
WV first came across M. P. Barker's wonderful fiction when she came out with her novel for middle readers, A Difficult Boy. Set in early 19th century New England, it was about two young indentured servants who make common cause against an abusive master. Francesca spoke with her in 2008 about that novel.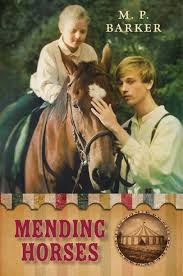 Now, the main protagonist of A Difficult Boy, the young Irish immigrant Daniel Linnehan, is back in a sequel. It's called Mending Horses and it follows our young hero as he sets out, freed from servitude, on a perilous new life with his beloved horse, Ivy. Along the way, he meets up with two fellow outcasts, a roving peddler, and a child fleeing an abusive father. Their journey together ends up mending each other's broken lives as they heal a circus's mistreated horses.
M.P. Barker wields her eloquent pen to explore themes of abuse, justice and healing. A former historical interpreter for Old Sturbridge Village, Barker's talent for bringing the past alive as well as her lively plotlines make her books fascinating and enjoyable to read.
Michele P. Barker is also the author of two nonfiction historical books.
Read an excerpt 
Listen to our interview with Barker about her first novel, A Difficult Boy
Ellen Bryson
When Ellen Bryson came out with her debut novel The Transformation of Bartholomew Fortuno Francesca was intrigued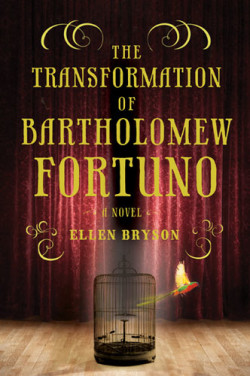 because it takes place in P.T. Barnum's first American Museum — the name he gave his circus.
In 1865, the Museum burned down, the target of arsonists, and Barnum built a new American Museum a little further north on Broadway. Francesca happens to live in a building later erected on the site of that building — the latter also burned down shortly after it was built. (Barnum's abolitionist views were unpopular in New York City.) Bryson's novel richly satisfied Francesca's historical curiosity with its descriptions of Barnum's Museum and its performers.

The Transformation of Bartholomew Fortuno centers on two of those performers, the Thin Man and the Bearded Lady and the unlucky romance between them. Bryson's novel explores the nature of Otherness — and how it resonates with insecurities we all feel within us.
Read an excerpt from The Transformation of Bartholomew Fortuno